Valued at US$ 750 million in 2020, the Indian EdTech industry is expected to reach US$ 4 billion by 2025 at a CAGR of 39.77%. With a growing demand for tech-enabled learning solutions, the EdTech industry is getting busier every day. Moreover, with a growing student base opting for online learning over traditional classrooms, not only is the customer base expanding but so is the competition.
As new EdTech start-ups crop up everywhere to revolutionize education, attracting students to your platform and staying ahead in the game has become a business imperative.
---
Why Do Edtech Organisations Need CRM?
EdTech companies need to cater to a wide and vast range of inquiries, from students looking for different courses to institutions looking to team up.
As more and more students reach out to EdTech companies with their need to enroll in institutions and courses, it is important that your sales reps respond to their queries on time and maintain good relations with them. The sales reps can't afford to let new, promising inquiries slip away because of a lack of communication or insufficient follow-up.
Not only that, but manually managing such large data on Excel can be exhausting, and even a small error can let the incoming students' inquiries fall through the cracks. The good news is, you can overcome this challenge via a CRM for education that caters to your needs.
A CRM for education helps you focus on your prospective students and engage with them at different touchpoints effectively and on time.
It can improve your enrolment rate, enhance student engagement, and enable seamless collaborations across teams. In addition, a CRM for education helps EdTech companies get multiple key benefits in their admission strategy such as – increasing the counselor's productivity, ensuring timely follow-ups, decreasing leakage of leads or admission inquiries, optimizing marketing costs, and increasing ease of decision-making.
---
Benefits of Using a CRM Tool in Edtech
The biggest benefit of using CRM for your EdTech organization is to streamline the students' enrolment, admissions, and retention process by providing a comprehensive view of every contact or inquiry.
EdTech CRMs can help you consolidate all the information from various channels of inquiries (such as emails, calls, and online ads), engage with interested students, and follow up at the right time.
As a result, implementing CRM for education can significantly speed up your response time to the student's enrolment queries, help you accelerate the enrolment process, and ultimately boost your sales revenue.
Even for outbound sales activities, the right CRM for education will help you reach out to the right prospects at the right time.
With an EdTech CRM, your team will have a complete view of the entire student lifecycle. In Kylas, you will be able to track every application, touch-point, and communication.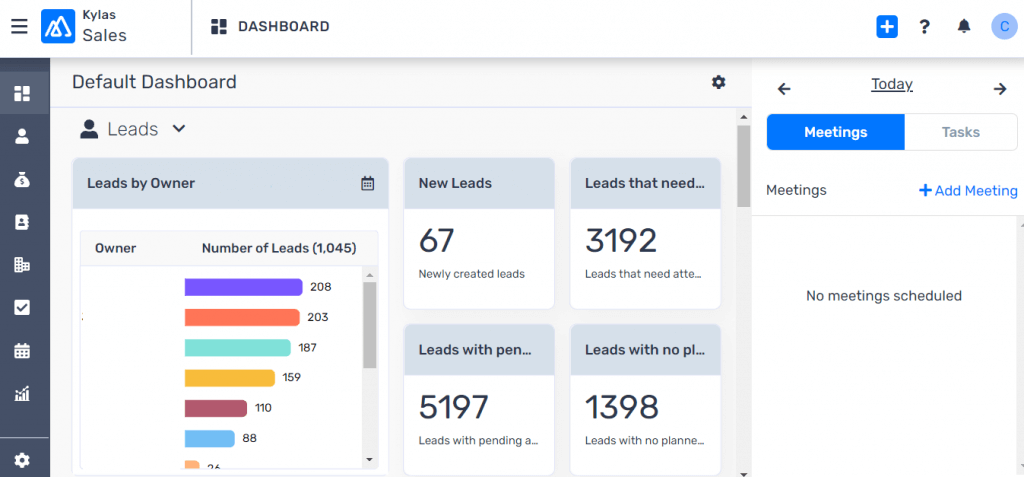 ---
How an Edtech CRM Like Kylas Can Help You Generate More Enrolments?
1. Automatically Capture Student Inquiries From All Your Channels
As a growing business, you need to focus more on selling and not worry about data entry and managing your day-to-day operations. With an easy-to-use CRM such as Kylas, you can
Automatically capture and save information on all the inquiries coming from email, live chat, 3rd party apps, and web forms. You can create custom input fields and web forms according to your needs.
Import data from large databases effortlessly and save hours of manual data entry.
2. Customize It as per Your Needs
As your EdTech business scales, you will need to make modifications to your sales process. Kylas helps your sales reps (in this case, counselors) build customized pipelines to stay connected with the students at every stage of their application journey and boost the enrolment rates.
Kylas helps you customize the platform to fit your unique business needs-
You can create multiple and fully customizable pipelines to fit your application process and streamline enrolments.
You can create custom filters that will help you find specific details on students based on the students' locations, choice of courses, demographics, etc.
3. Engage Students for Better Relationships and Faster Conversions
As more and more inquiries come up, it is important for counselors to keep the interested students engaged. With the help of Kylas they will be able to
Reach out to students as soon as they express interest in your institution/ course
Create meaningful touch-points throughout the student journey and engage better with them via in-app and email reminders
Create templates & send personalized emails to the students on enrolment progress
Send SMS updates and course reminders to ensure every student is kept up-to-date. They can then nurture the interested students with key updates.
View email records, phone records, and every single interaction that has taken place with prospective and existing students.
Track student communications through Notes – from their inquiry stage to their final enrolment stage.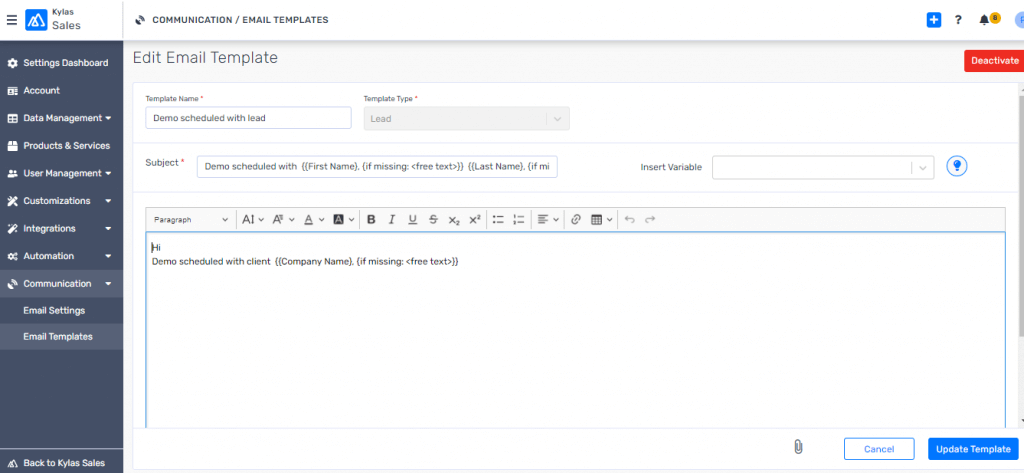 4. Stay On Top of Your Tasks With Automation
With Kylas, you can automate the enrolment process to save time and boost the productivity of your counselors. Through workflow automation in Kylas, you can
Send personalized email updates automatically- providing the right students with the right information, at the right time.
Send reminder emails of upcoming courses to all the inquiries
Automatically assign new inquiries to the right sales reps (counselors) in that particular region or subject.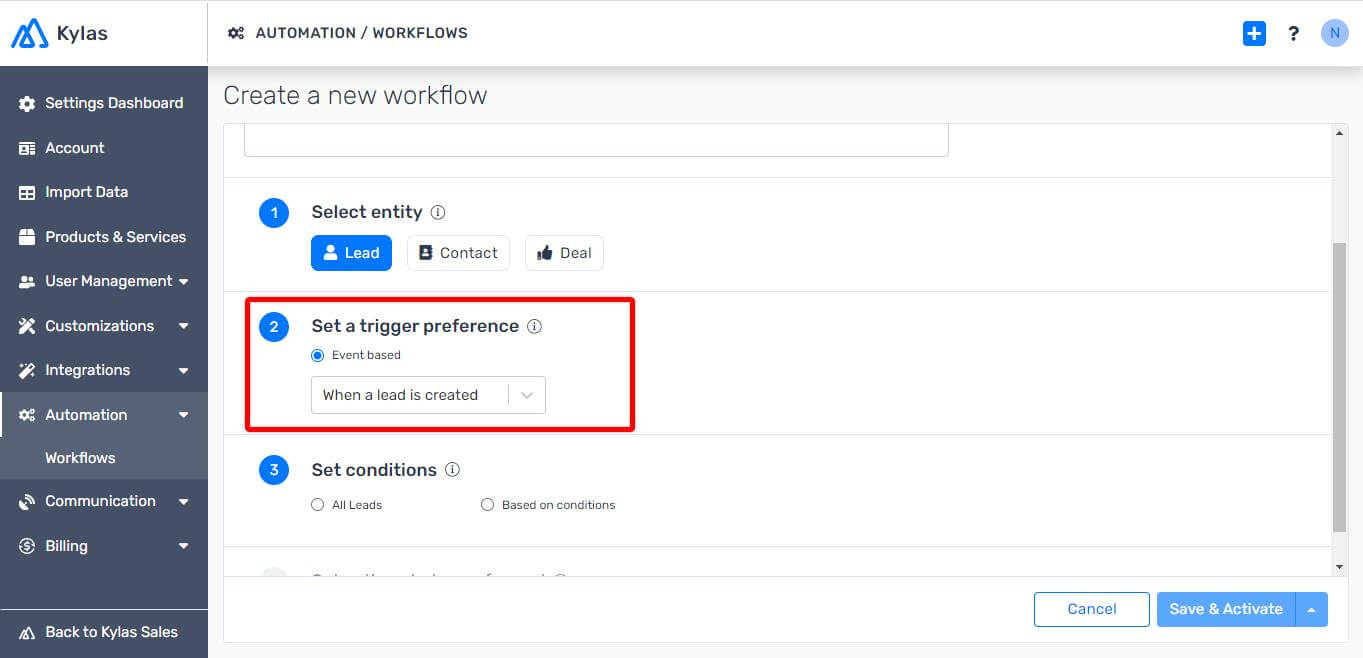 5. Get Insights into How Your Sales Team Is Performing
With Kylas CRM, you will be able to get detailed reports to make data-driven decisions. You will be able to generate reports and get insights to optimize your outreach and boost enrolments. With Kylas, you can get information on
Which channel is capturing the highest number of student inquiries?
The performance of your sales team or counselors.
The most popular & revenue- generating courses. You can also get insights on the courses that need improvement.
In Kylas, you can create reports easily and export them as CSV or PDF. You can also view multi-dimensional reports to get instant information on key sales metrics.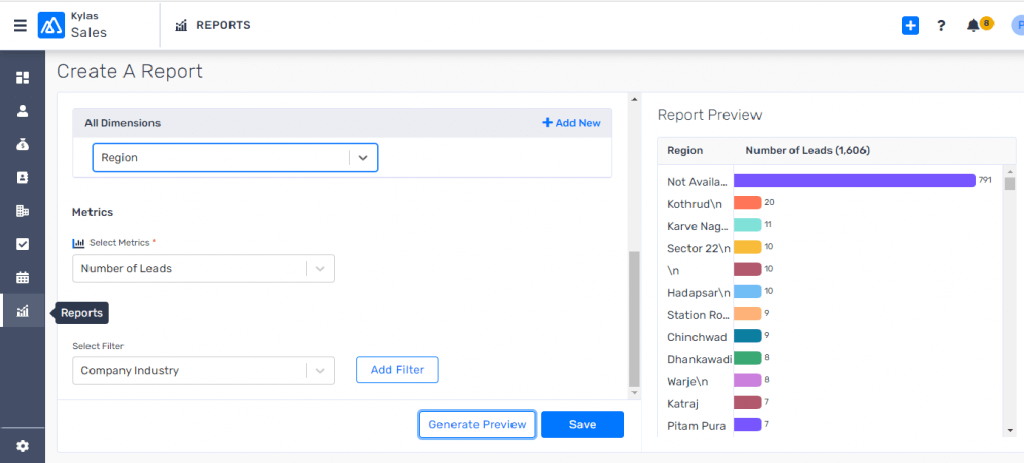 Check out more details about our reporting feature
6. Integrate With 3rd Party Tools to Streamline the Enrolment Process
With Kylas, you can streamline your enrolment process by integrating with the tools and platforms the students are already using.
Make communications seamless by connecting Emails, SMS, and Calling apps. Using Kylas, you can integrate Kylas with custom email servers like Gmail and Outlook, SMS, capture inquiries directly from lead generations apps, and bulk email marketing tools like Mailchimp.
Enrol more students with Kylas Edtech CRM!
Start 15-day Free Trial