The average adult makes 35,000 conscious decisions a day. But, as a leader solving small business challenges, 'average adult' doesn't quite define you.
We don't need to tell you how much time you spend making decisions and choices…sometimes groundbreaking and sometimes mundane…if you're here, this is a reality you're already dealing with.
Perhaps it's just now that you're getting bogged down by it, or maybe it's a new reality for you. Either way, we're here to tell you it's not necessarily about your decisions – it's how you make them.
So, without further ado, let's get into it.
Your quick guide to making better decisions as a leader:
Tip 1 – Create a Decision-Making Framework That Works for You
Decision-making as a leader is not easy. Even more so when you are solving small business challenges.
You'll always be making many difficult decisions, the outcomes you cannot predict, which may affect your organization significantly.
This is even more complicated when you're looking to grow a small business and run the risk of losing control.
Using a framework allows you to take a systematic approach to every decision, making quick work of it. One example of a framework is to:
Dissect the more significant problem into little actionable problems
Quickly go through different possible solutions for each one at a time
Consider the benefits and potential negative ramifications
Consider the requirements (such as cost)
Have success markers in mind – how will you know if it is working out?
Choose and implement
Put someone in charge of implementation & continued execution.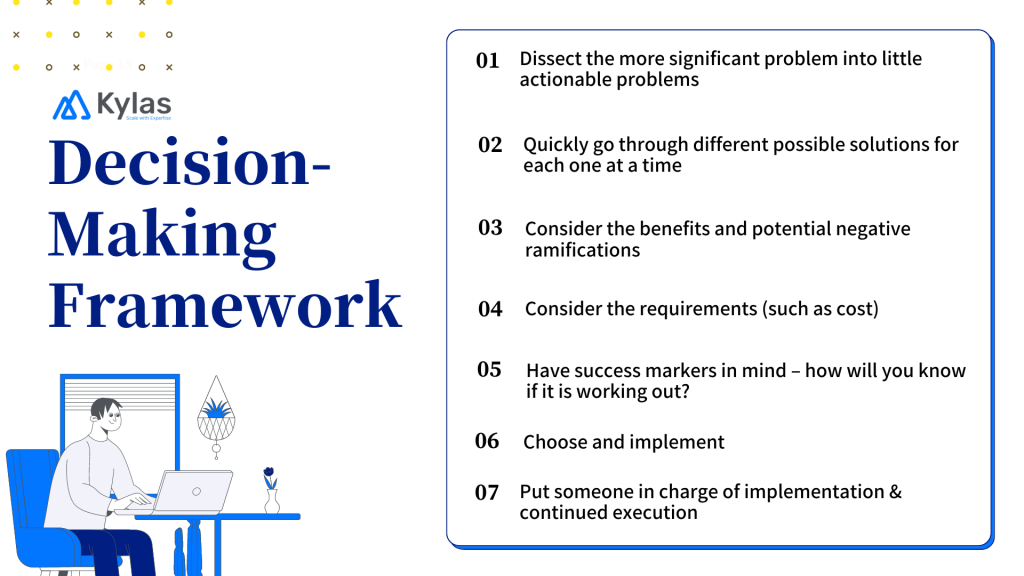 Does this seem long? Before you know it, it'll be second nature to you.
Don't: Forget to trickle this framework down to mid-level managers too.
---
Tip 2 – Have a Personal Mentor Whose Opinion You Value
Have a friend, old boss, or family member with excellent leadership experience?
"It's good to learn from mistakes but it's even better to learn from other people's mistakes."


Warren Buffet
Having someone to turn to who has 'been there and done that can add depth to your perspective and help you make decisions that will work out better in the long term.
Do: Have the foresight to ask for their opinion in time… don't wait until the last minute!
Don't: Take their advice word for word unless it applies to you – absorb & adapt.
---
Tip 3 – Ask for Inputs From Your Colleagues and Reportees
This isn't the easy or quick way, but it's essential that the people in your firm feel included in decisions that affect them.
First, it ensures that you make decisions that will be adhered to.
Second, it leads to a positive environment that's more nurturing and increases accountability. Employees will see that what they think and need makes a difference; they will feel heard.
Do: Take the input of people from all levels when making decisions that affect everyone.
Don't: Put every single opinion into action – the aim isn't to be popular with all employees but to make decisions that benefit the firm.
---
Tip 4: D for Delegate – Take the Weight off the World off Your Shoulders
If you've hired the right people, you need to be able to give them the responsibility that comes with their role. Trust that they'll make intelligent decisions, and let them know they can always come to you for help.
Do: Hire the right people! It might take you longer and need some adjustment, but you need a competent team to delegate.
Don't: Lose sight or let go of the reins completely. You still need to be aware of and approve of the decisions.
---
Tip 5: Take it Easy
Don't let the fear of making the wrong decision affect the decision. Leaders often find themselves frozen in indecision or making consistently safe choices that don't solve small business challenges.
Know that if a decision doesn't work out… you'll find that there's usually a way to turn things around! Feel free to color outside the lines once in a while.
Do: Take risks but take informed risks after weighing different consequences (enter: your decision-making framework).
Don't: Go from being frozen to taking the freedom casually!
---
We hope this helps! These five tips will guide you through every kind of decision you'll face in the day-to-day functioning of a growing business.
And if you come across a problem you can't address with these, we'd be happy to help out!
Feel free to drop a line in the comments section below.
Start 15-day Free Trial