For most of us, customer-centricity is to put your customers in the thick of it all by helping them realize value. The idea here is to focus on creating lasting relationships to create long-lasting business opportunities for you.
However, customer-centricity can mean different things to different people. It can depend on-
Your definition of the customer.
Your definition of the lifecycle (based on time).
Your focus will be to enable customer-centricity.
The business culture.
Your engagement channels, and so forth.
Regardless, at the core, you will find that every department or function makes decisions by keeping your customers at the center of it all.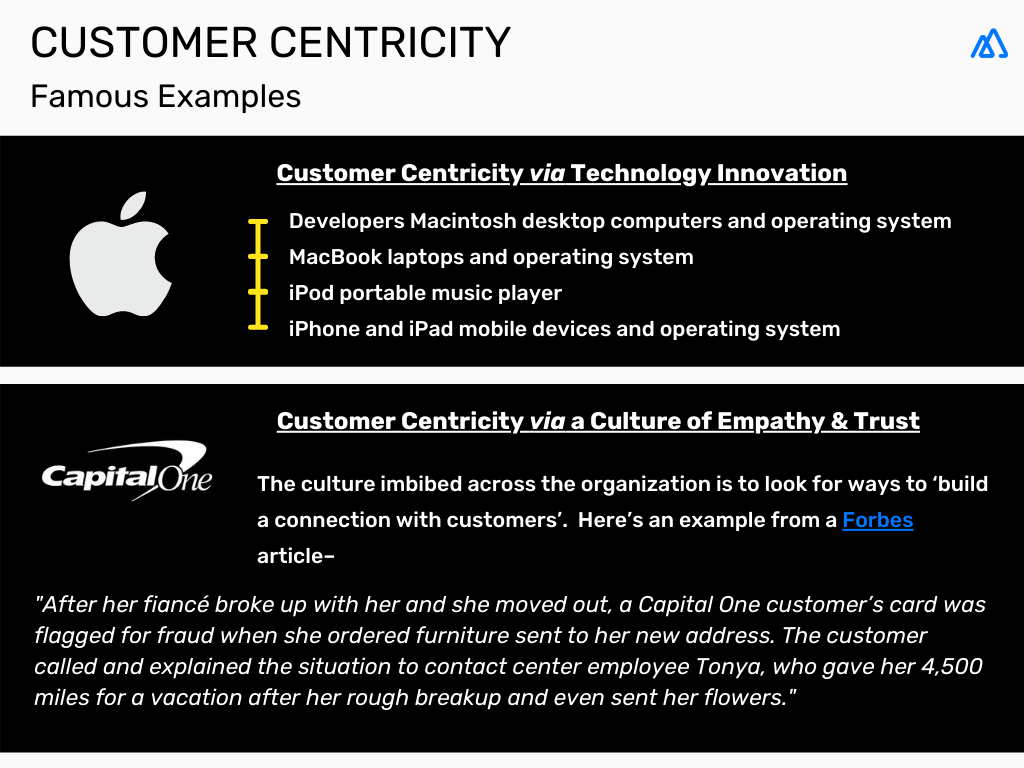 As the cases showcase, Customer Centricity can mean different things to different businesses and industries.
---
Understanding Customer Centricity Via a Comparative Overlay
Most businesses, though, take a product-centric route where they focus on the sale of the product itself rather than the value it can create to their customers.
To understand the comparison better, here's an analysis of both concepts.
Perspective
Product Centricity
Customer Centricity
Obsession




To sell the product/service as much as possible
To identify, create and sell products/services that can help customers drive better value
Mission
Acquire and retain customers
Acquire, retain, and serve customers who provide the highest-value
Customer engagement
To sell at all costs
To focus on the core segment but do not ignore the rest
Innovation
Add new features to existing products
Add new features to the existing product line AND innovate to solve changing customer needs
Commonly asked questions by small business owners
What products/services can we sell to our clients?
What kind of relationship do we need to build?
How can we make more money?
What do our customers need (products/services), and how do we help them?
What kind of relationship do our clients expect from us?
How can we provide them with more value so that they buy our products/services?
Based on this chart, we can identify a trifecta of three core factors that can define 'Customer-Centricity.'
Addressing the Customer's specific needs,
The value provided to the Customer,
Customer Lifecycle

Value (direct/indirect). 
Put differently, Customer Centricity is where the focus shifts from products/services and its sale, to the value created for customers over a long time.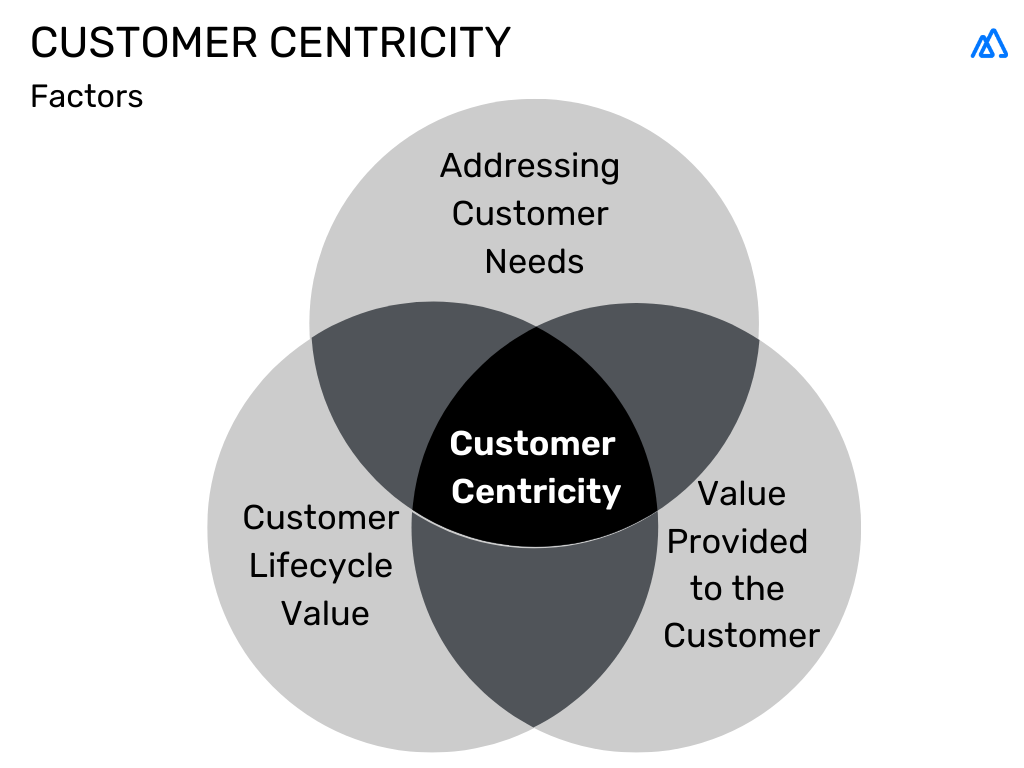 ---
How Can a Growing Business Become Customer-Centric?
For customer-centricity to be adopted and to be maintained right from the top brass down to the customer-facing executive, the leadership needs to embrace the responsibility to do so.
Gartner tells us that 90% of enterprises have set up a 'Customer Experience' department and have a Chief Customer Officer to handle customer-centricity. Growing businesses and startups cannot afford to do the same because of their constraints.
But this doesn't mean that they give up. In actuality, they will need to go beyond what an enterprise can do to bridge the gap with customers.
They can do so by encouraging-
Leadership & culture – It's down to the leadership to create and maintain an 'anything-centric' culture across the organization. For starters, the leadership much experience a shift in thinking. Read this blog on the Agile Mindset to get started.
Gap identification & innovation – Just like Apple, you too will have to keep a finger on customer expectations & trends to stay ahead of the innovation curve. Here, your troops on the ground, aka your sales teams, are your source of information gathering.
Assigning the right responsibilities to each department – Every department must play its role as defined by its responsibilities. The leadership must define responsibilities clearly so everyone knows what's expected from them.
Track metrics and share knowledge across departments – Every change and process must be tracked to identify if it is working properly, where the gaps in the process are, and track implementation success.
Humans by nature are largely compassionate people, and giving them the capacity to showcase empathy can bring the best out of people. Essentially, you end up shifting focus away from your products, their amazing features, and revenue generation.
In all fairness, many businesses begin with new or renewed energy to be different. On much recognize that without adhering to the above 4 points, Customer-centricity becomes a passing hype and nothing more.
So how does a growing business create and maintain Customer Centricity?
---
The 3 Customer-centric Models to Know
These 3 models can help address growing businesses address Customer-specific needs, provide value to them, and do so over a long period.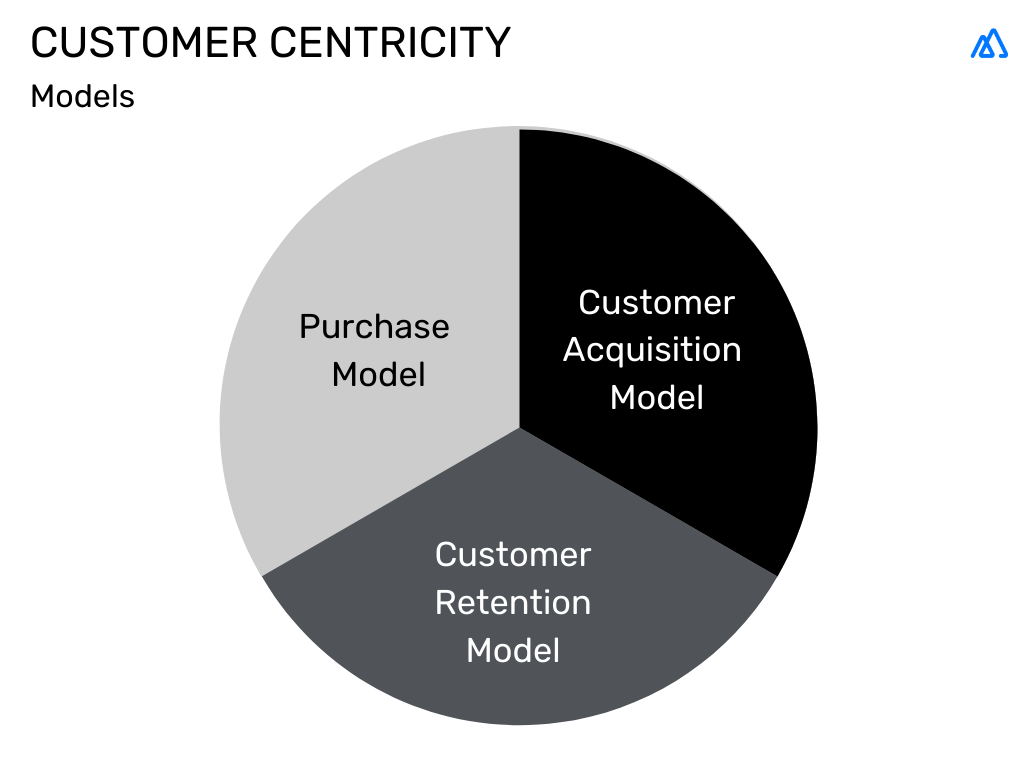 I. The Purchase Model – Forecasting how frequently your customers will transact with you
II. The Customer Acquisition Model – Forecasting the inflow of new customers
III. The Customer Retention Model – Forecasting how long customers will remain with you and your products
Customers are, in a sense, treated as assets strategic for the growth of the business. And tracking the performance of customer-centric initiatives is what helps complete the concept.
---
The 3 Customer-centric Metrics to Know
Not every business can rely on these metrics specifically to measure customer-centricity. However, these 3 metrics or their variations must be implemented to measure customer-centricity.
I. Customer Churn Rate
Consider these stats from a Forbes article:
It can cost five times more to attract a new customer than to retain an existing one.
Increasing customer retention rates by 5 per cent can increase profits by 25 per cent to 95 per cent.
65 per cent of a company's business comes from existing clients.
As the statistics prove, acquiring new customers is far more difficult than customer retention.
The key, then, if we look at the stats from a customer-centric approach, is to understand why your customers are leaving, and why the ones who are staying put are doing so.
Here are the reasons for customer churn according to Farsijani and Zandi's The Servqual Model (2012)-
| Variable | Description |
| --- | --- |
| Tangible quality | The appearance of physical facilities, equipment, personnel, and communication materials |
| Reliability quality | Ability to execute the pledged service dependably and accurately |
| Responsiveness quality | Readiness to support customers and provide prompt service |
| Assurance quality | Knowledge and politeness of employee and their skill to transport trust and confidence |
| Empathy quality | Special attention that the employees provide to each other |
Simply put – Growing businesses with high retention rates do tend to do better and grow faster.
II. Net Promoter Score (NPS)
NPS tries to answer one question only, "Are your customers happy with your service?"
Every customer's response is then segmented based on predefined criteria-
0-6 – The Detractors
These customers are not happy with your product/service and are likely to mar your reputation by sharing their negative thoughts about you with their connections.
7-8 – The Passives (or the Fence–sitters)
These customers are content with your offerings but are on the lookout for better services.
9-10 – The Promoters
These customers love you! They don't even want to consider shifting to another brand and will make their thoughts known to their connections. When you think about high Customer Lifetime Value, think of your promotors.
Simply put, the higher your NPS, the better is your customer-centricity.
III. Customer Lifetime Value (CLV)
CLV is when you go beyond Churn Rate & NPS and look at the revenue each customer contributes to your business.
For example, this one person had bought a Macintosh computer, then an iPod, a MacBook, and an iPhone. Say they don't buy an iPad or upgrade to any new Apple product.
The formula for CLV is = Their total contribution – (minus) The cost of acquiring them
While CLV is not an exact science, it can draw a better picture to help you plan your investments (in your customers) better.
---
Customer Centricity for Small Business Growth
The shift to Customer-centricity is not a simple one and requires changes in multiple ways. However, this is the best path to experiencing true small business growth.
A growing business needs the right mix of mindset and technology, like Kylas Sales CRM Software. The technology helps collate, help implement Customer-Centricity and measure, along with other growth-driving practices you want to implement and perfect.
We hope this article will help you understand the concept of Customer-centricity. Do share your comments below and also tell us what you would like us to write on.
Start 15-day Free Trial