Imagine the possibilities if you knew the formula for a perfect sales funnel! Picture yourself in a scenario where the leads you pursue seamlessly transform into long-lasting, loyal customers for your brand. No, this isn't a discourse on some distant parallel universe. Rather, it's an achievable reality wherein your sales reps master the art of target account selling and seamlessly integrate it into their outreach strategies.
TAS is a smart approach to using your company's time and resources wisely. It means your salespeople only go for quality leads instead of just a lot of them. This also means that they customize how they reach out to give every person involved in making decisions a really good experience.
To make this work, you need a tool like Kylas CRM that helps track the status of your leads so that you can distinguish high-value leads from irrelevant ones.
Let's explore what target account selling is and why you must care about it if you have a growing business.
---
What is Target Account Selling?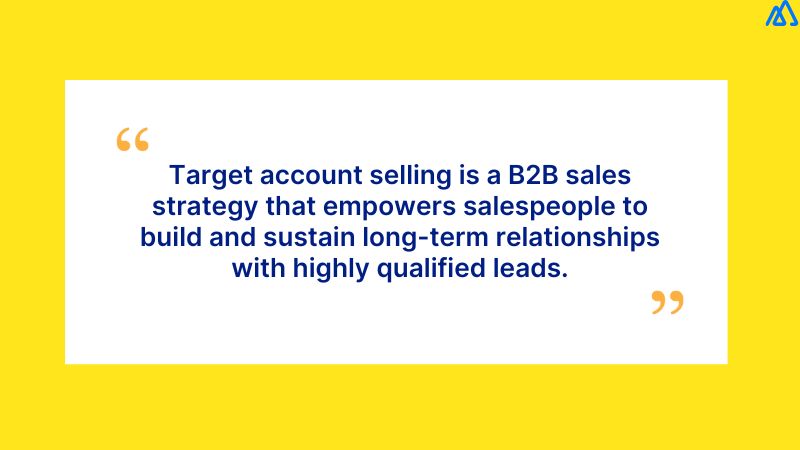 The approach focuses on identifying and nurturing the perfect-fit leads that match the business's ideal customer profile (ICP).
It is based on a simple ideology: instead of wasting your time and resources on leads that are less likely to convert, you must direct your strategies to the leads that are most suited for your products or services.
Not every lead you generate is a suitable lead for your business. If you still divide your sales efforts equally across all the leads, there's no way you are making it big. You need to find the most relevant ones for your business so that you have more chances of success and available resources that can be utilized on more such leads.
Using this approach, multiple departments can collaborate to direct their selling efforts correctly. This approach may demand more effort from your salespeople, but it can yield dividends in the form of high-value, highly motivated leads that will buy from you.
In a nutshell, it's a way of handpicking the right prospects for your business, conducting deep research about them, and personalizing messages that directly explain how your brand can help them.
---
How Does Target Account Selling Work for Your Growing Business?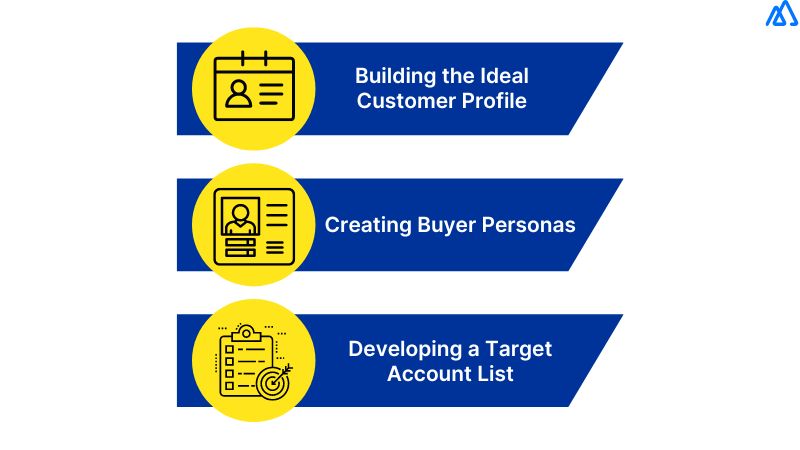 As shared by a report by DemandScience, companies that use target account selling, close deals 35% faster than those that don't. The TAS methodology can be a little time-consuming as the reps have to consistently work hard to learn about their leads so that they can offer personalized support to the prospects they are chasing.
It also requires collaboration and coordination among the marketing, sales, and customer success that can be achieved through a three-step method. So, let's see how target account selling can work for your growing business.
1. Building the Ideal Customer Profile
An ideal customer profile (ICP) is a comprehensive description of the characteristics, traits, and attributes that define the type of customer who is most likely to derive significant value from your product or service.
The key to successful target account selling is getting in touch and building relationships with only those businesses or accounts, that are a perfect match for your product or service. Or we can say the ones that fit your ideal customer profile criteria. Sales and marketing teams need to get together to create a list of general characteristics of customers who they think are most likely going to buy from their brand.
You can consider ICP as the ideal representation of a business or account that will benefit the most from buying your product or service. Start by thinking about your top customers, determine how much they are paying you, what value you are creating for them, and if there are any common attributes while creating your ICP template.
Also, you need to make sure that your template contains information like your target industry, location, company size, pain points, budget, etc. There must be everything that you think should be a trait of your ideal customer and start with your journey in the right direction.
2. Creating Buyer Personas
TAS is not like Gap Selling, Value Selling, or SNAP Selling because it involves connecting with multiple points of contact.
After your sales and marketing teams have come up with the ICP template, the next thing to do is to create unique buyer personas for each of the decision-makers. This would require your team to perform thorough research on every qualified account and gather as much information as they can.
Also, it is much more specific than the ICP. It involves information such as job titles, responsibilities, demographics, personality traits, and preferred communication methods. Based on these things, sales reps can customize the content and address different personas separately. This results in a better nurturing process and a highly personalized customer experience.
3. Developing a Target Account List
After ICP and buyer personas are defined, your sales team can develop a target account list. As the name suggests, it is the list of the accounts that your team will target. The list must only contain the accounts that fit your ICP criteria.
The process may look different for different businesses. So, it's best to stick to what fits the best for you. You can use your ICP to guide your search and find potential candidates for your brand. Or you can use customer feedback and conversational insights to build your initial outreach strategy. You can also identify purchase-ready buyers based on specific signals to ensure that you are targeting the right customers.
---
What are the Stages of the TAS Process?
When you know what should be done to establish your TAS process, it becomes easier to implement it into your sales workflow so that you can generate more revenue from your sales. However, you need to know clear objectives and analyze your sales intel so that the steps are performed accurately.
Let's now look at the stages of the TAS process that will help you establish the strategy properly.
1. Set your Goals
Setting goals ought to be the first step of your TAS process. Write down what you want to achieve with the process. Your goals can be anything from closing deals more quickly, and bringing in more revenue to expanding your business profile and upselling to existing accounts. A clear direction is needed to start with the process.
2. Create your Ideal Customer Profile
You must create a detailed profile of what your ideal customer would look like. Note down the characteristics of how your ideal customer would look like. Envision their demographics, pain points, and what would suit their requirements the most. Sales and marketing teams may have to work together in this phase to approach the right prospects in different ways.
3. Create your List of Contacts
The next thing to do is to search for the companies that fit your pre-set criteria and dig deep. At what pace are they growing? Have they purchased a product or service similar to what you sell? Who are the decision-makers? What is their budget?
List down all those companies that seem to be the best fit for your brand. Once you have found a few names, start reaching out to them so that you have an idea of how well your process is performing.
4. Check your Benchmarks
Lastly, track your goals periodically so that you can see where you may need to make changes to the process. When a campaign is done, check the timeline and identify your strengths and weaknesses that must be taken care of in the next one.
---
What are the Benefits of Target Account Selling?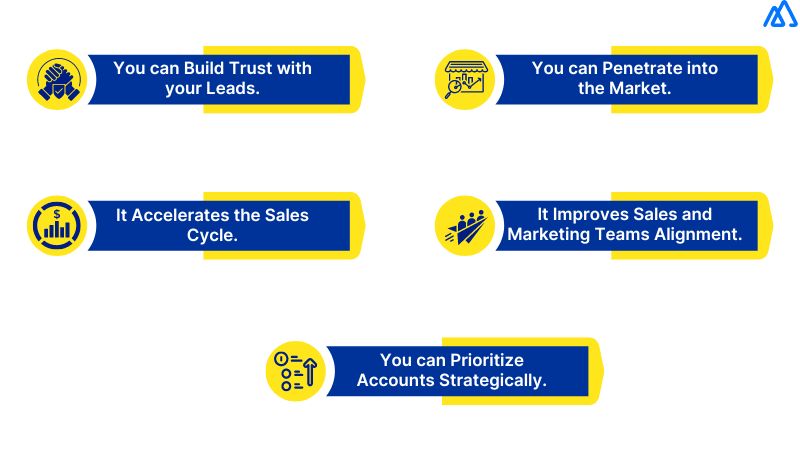 81% of consumers want businesses to understand their needs and pain points and when to reach out and when not to. This is one of the reasons why TAS is important. Remember that your focus is not just to close more deals but also to build long-term relationships with your customers.
Here are a few reasons why target account selling should be a part of your strategy.
1. You can Build Trust with your Leads.
People like to buy from brands they trust. Now that the entire TAS process revolves around building meaningful relationships with your customers, it's important that you use personalized content for ongoing support. Decision-makers would want to buy from you only if they see that your brand is going to help them in some way.
2. It Accelerates the Sales Cycle.
There's no denying the fact that TAS requires more time for research upfront. But if you see it as a part of your sales cycle as a whole, you will find out that it actually speeds up the sales cycle. This works wonders for businesses that sell to enterprises and have complex sales cycles. The trick is to stop wasting time on unqualified leads and direct your sales efforts to the qualified ones.
3. You can Penetrate into the Market.
With TAS, you can capture a bigger market share. By focusing on the most qualified leads, you can deliver them with highly-tailored solutions. What's even better is that such brands will pay for customized solutions as they often come with exceptional customer service.
4. It Improves Sales and Marketing Teams Alignment.
With target account selling, sales and marketing teams work together to identify high-value accounts. The marketing team can generate targeted content and campaigns and the sales team can personalize their outreach. Because of the alignment, sales processes become more efficient and effective.
5. You can Prioritize Accounts Strategically.
Out of all the accounts or businesses you chase, some are a better fit for your business than others. Using the TAS approach, you can easily prioritize accounts on the basis of the size and industry of the business based on their pain points and needs. Instead of trying to sell to every account, you must focus on selling to those accounts that are most likely going to generate revenue and provide long-term value.
---
How can Kylas Help You Implement Your TAS Strategy?
Kylas Sales CRM is an enterprise-grade CRM that is specially designed for growing businesses. Here are a few Kylas features that can support your target account selling strategy and improve your sales process.
1. Automation
It becomes extremely easy for salespeople to run their campaigns when a lot of elements of the sales process like sending emails, creating leads, logging calls, data entry, etc. get automated. Kylas lets you automate redundant tasks that take up most of your sales team's bandwidth.
2. Document Management
Salespeople can directly upload important lead documents into the Kylas CRM, eliminating the need to search for lead data they may need while connecting with the leads.
3. Sales Dashboards
With the help of the custom sales dashboards in Kylas, you can monitor your business performance and keep in sight all that you want to see.
4. Integrations
Kylas lets you integrate all the business applications that you need to run your business. This way you can stay in line with the business operations without having to switch back and forth.
5. Communication
With Kylas, you get unlimited calling, SMS, and emailing options that you can pick as per your needs. You can easily log calls, record calls, send bulk messages, store email templates, etc. to communicate with your customers.
---
Wrapping Up
For dynamic B2B sales, it is essential to have personalized interactions and build strong relationships with your customers. You must adopt a target account selling approach to chase only those accounts that can generate revenue and provide long-term value.
Start 15-day Free Trial