If you're looking to take your product to market, you've probably already done this one simple act. Strategized and brainstormed about all the possible channels that would be cost-effective and profitable for you to launch your product, bring in maximum revenue, and run a cost-effective sales strategy. As per the statistics, channel sales represent 75% of the world's commerce.
Whether you realize it or not, you're no stranger to the world of channel sales.
What are Channel Sales?
Channel sales are how you take your product to the market – the different 3rd party channels that you employ to help launch, market, sell and service your product to maximize your revenue.
The keyword here is '3rd party'.
One of the biggest sales streams to consider is 'direct sales' or 'direct to consumer' as it's called – while this may be an effective sales strategy for you, it might only be part of the bigger picture. Direct sales don't come under the umbrella of channel sales.
---
Channel Vs Direct Sales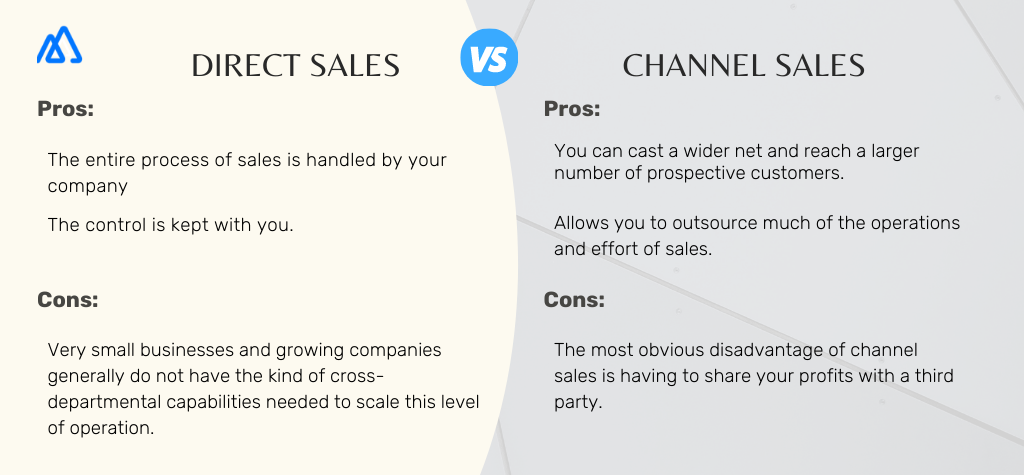 As we mentioned above, the keyword when it comes to channel sales is '3rd party'. Channel sales involve using 3rd party partnerships to get your product to the market.
The main benefit of using channel sales is that you can cast a wider net, and reach a larger number of prospective customers than you would be able to by yourself.
The other main benefit is that partnering with a 3rd party allows you to outsource much of the operations and effort of sales – depending on the channel you choose. This means everything from finding new prospects to after-sales services will be taken care of by the partner.
What are Direct Sales?
In direct sales, you're selling directly to the consumer – usually either via brick-and-mortar stores or via the internet.
In this case, the entire process of sales is handled by your company. The benefit of this is that the control is kept with you: prospects move right from marketing to sales to after-sales and loyal customers based on strategic decisions you make.
The disadvantage is usually too growing businesses and growing companies that don't have the kind of cross-departmental capabilities to scale this level of operation.
There are a number of companies, however, that use a mix of channel sales and direct sales.
For example, you might think of technology companies that sell their software using both channel sales and direct sales. Microsoft Office, for example, bundles its office software with multiple laptop companies, sells it via channel partners to consumers, and also sells it directly to consumers. The same can be said of many manufacturing companies as well.
| Direct Sales | Channel Sales |
| --- | --- |
| You have full control of the sales process | Scaling potential is effective |
| A higher cost is involved with building a team for direct sales | Lower cost for expansion into new markets |
| No Revenue Share | Industry Support |
Difference between Direct Sales and Channel Sales
---
Types of Channels for A Sales Channel Strategy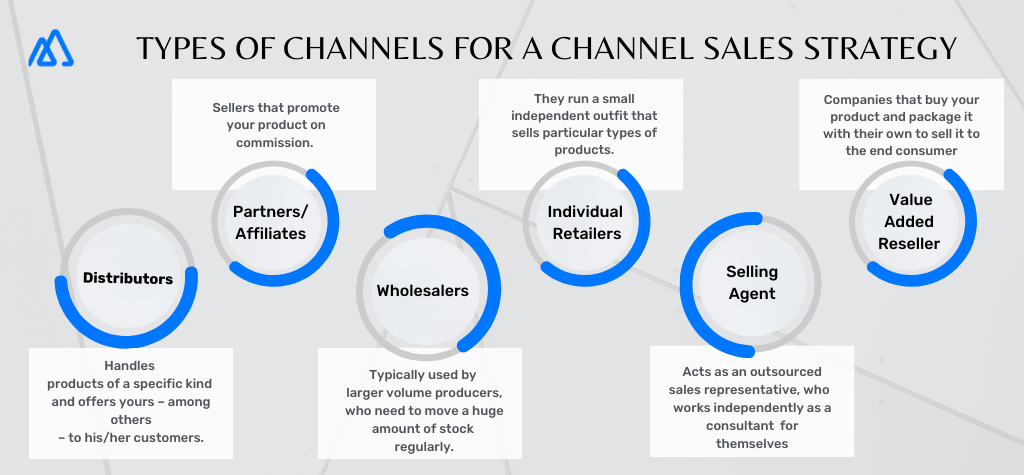 There are a number of channels you can employ as a sales strategy, that allow you to diversify where you bring in revenue. Let's look at a few of them:
1. Distributors
This is a form of channel sales you're probably most familiar with, having bought electronics and cars from distributors before. Distributors are 3rd parties that sell your product directly to the end consumers, and most distributors have made/are looking to make their own brand as a distributor of a particular type(s) of product.
The distributor may conduct sales via a brick-and-mortar store, or it may simply be an e-commerce business. The main idea is that the distributor handles products of a specific kind and offers yours – among others – to his/her customers.
2. Partners/Affiliates
Affiliates are sellers of your product that work on commission. The form of affiliate sales you'll be most familiar with is influencer marketing, and the same concept largely applies: Affiliates are in charge of marketing and drawing in customers to your product through their marketing/sales channel, and for every customer that they bring in, they receive a commission.
Because of the nature of the operation, the success of affiliate partnerships depends largely on the popularity and goodwill of the affiliate – the more widely trusted the affiliate within your target audience, the more customers they're likely to get you. This means the biggest success factor for your affiliate partnerships is the affiliates that you choose.
3. Wholesalers
Wholesalers need no introduction – they are the traditional middlemen that take your product to the retailers, who in turn sell it directly to consumers.
They are typically used by larger volume producers, who need to move a huge amount of stock regularly and hence cannot deal with retailers on an individual basis.
Usually, wholesalers are a type of channel sales that deals in the physical supply of goods – they tend to supply products to retailers with brick-and-mortar stores.
Some wholesalers also run their own stores where they buy from the producer and sell directly to the consumer, passing on the benefit of cutting out middlemen (retailers) in the form of discounts to customers.
4. Individual Retailers
Individual retailers don't operate as large-scale distributors but run small independent outfit that sells particular types of products.
Again, this could be via a brick-and-mortar store, a website, etc. They curate a number of products that they believe will be popular among their clientele and typically have smaller order numbers than distributors and wholesalers.
That said, individual retailers are not to be underestimated: choose the right retailers and they could turn out to be a highly successful sales channel for the trust they hold among their patrons.
5. Selling Agent
A selling agent acts as an extended arm of your company – an outsourced sales representative, if you will, that works independently as a consultant for themselves.
A selling agent represents the interests of your company rather than the interests of the consumer, but in some cases represents both. The biggest industry that operates with agents as part of the channel sales strategy is the real estate industry.
Because real estate works at a geographically localized level, selling agents, or 'brokers' as we call them are a popular form of channel sales. Agents are usually paid by commissions, and incentivized by perks.
6. Value-Added Reseller
As we mentioned earlier, one of the forms of channel sales is companies that buy your product and package it with their own – or others' – to sell it to the end consumer. These are called value-added resellers.
Microsoft Office is one example of this – a software product that is sold via retailers and also sold by companies such as Dell with their own laptops (who then become the Value Added Resellers).
Value-Added Resellers are a great way to diversify the method by which your product reaches your consumers, especially those consumers who may not reach out and buy it directly from other sales channels.
---
The Benefits of Channel Sales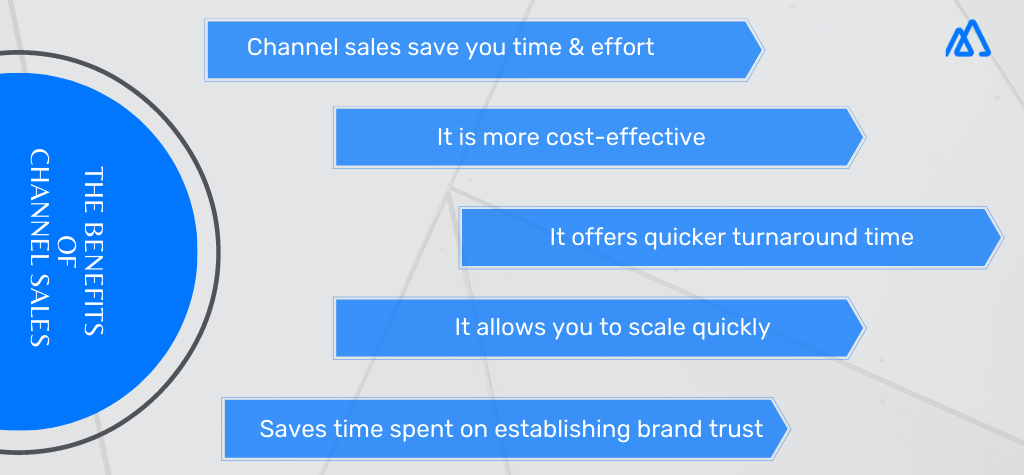 Now that we've understood what channel sales are, how it stands apart from directly selling to consumers, and had a glance at the various types of channel sales, it's time to look at things objectively: Is channel sales really worth the effort? Or does it add on more than you want to take on as a growing business?
1. Channel Sales Save You Time & Effort
For a growing business, hiring a sales team, setting up sales processes, sales funnels, and all the associated tasks of running a sales operation, aren't always feasible or cost-effective.
It takes an enormous amount of manpower and effort to run a sales operation, so starting out with channel sales can save you a lot of time and effort (and resource cost).
2. It is More Cost-Effective
Channel sales cost a fraction of what it would take you to take the entire operation in-house, and a partner/affiliate/retailer will bring in a much higher volume of sales than a single salesperson.
Plus, when you bring on one channel of sales, you can set processes that can be extrapolated to every consequent channel – bringing in increased efficiency and saving you costs.
3. Channel Sales Offers Quicker Turnaround Time
For growing businesses, salespersons selling the products can take a while to turn around – prospective customers aren't immediately going to trust your product or your company, and will take their time to compare you with competitors, check out reviews, etc.
When you sell via a partner/retailer/affiliate; however, the barrier to purchase is broken down significantly by the trust and goodwill they carry among their customers and network.
4. It Allows You To Scale Quickly
As we mentioned earlier, once you have your processes in place, you can quickly onboard more of the same channel sales mediums.
This is especially effective if you're keeping a keen eye on your channel sales strategy and measuring the effectiveness of one against the other. That way, you can discontinue channels that don't offer the same returns and bring on more successful channels.
The only barrier to your scaling, then, depends on your production capacity, marketing, and popularity of the product.
5. You Don't Need to Spend Time Establishing Brand Trust
This is a benefit as well as a downside – because channel sales involve selling through agents/retailers/channel partners, etc. that have their own network of consumers that trust them, your newly-established brand as a growing business doesn't create a barrier to purchase.
You don't have to take the extra effort and time to sell prospective customers to your brand. The downside, however, is that your brand voice and identity can get diluted and lost because you're selling through a channel that usually represents many other brands & products like yours.
---
Getting Started with Channel Sales
As a growing business, before you get started with a channel sales strategy, you need to have some basics in place first.
1. Know Your Audience
You need to have a detailed understanding of who your ideal customer is. For every brand, this is not a set demographic – you're looking at various sub-types of customers, segmented via different criteria including their industry, buying processes, pain points, demographic markers, and so on.
Understanding these details and creating cohorts of customers is important to be able to employ channel sales in a way that reaches all prospective customers effectively.
2. Plan The Ideal Sales Channels
Based on your audience, their buying patterns, and purchase habits, choose the right channels for your channel sales strategy.
Each channel you choose must serve to increase your revenue and share of the market in some way from the right prospective customers.
It's also a good idea to go with a mix – diversify how your brand and product get in front of your relevant audience, in different ways.
3. Bring your Sales Processes in Order
You'll have a certain set of internal sales processes – in terms of the resources, paperwork, and evaluation metrics, for example – required to run a channel sales strategy.
You'll also have individual processes required for the onboarding, sales, and transactional processes with each channel.
How do you onboard a new retailer, how do you track affiliate partner transactions, and how does your supply chain operates for wholesalers? You should aim to get your processes in order for each channel so you can simply replicate and refine with each channel sales medium/partner.
4. Create All the Collaterals and Knowledge Resources Needed
With a channel sales strategy, you're entrusting your product to someone else to sell – this is a huge deal for your brand.
It means putting in extra effort for brand quality control. You'll need to share all the required collaterals, think about their point-of-sales requirements and what you'll need to supply, create fact sheets and troubleshooting guidelines, and so on.
Each of the mediums you use as part of your channel sales strategy should be appropriately equipped to represent your brand, almost (though not realistically) as well as they would be if they worked directly for your company.
5. Set Up Your Evaluation Criteria
You've decided to go with a channel strategy today, but you may not be certain about which channels will work best for you.
Considering the mode of operation is quite different for each channel, you need to consider how you will evaluate successes.
Will it be a point-to-point revenue comparison? It's possible, however, that one channel that brings in higher revenues in a month also required higher investment from your side in terms of marketing…whereas another channel where you barely put in any effort/investment brought you comparably great returns.
You also need to evaluate which channels are managing to upsell more, bring in referrals, and so on. Data is your friend in evaluating success and making insight-led decisions for your sales strategy.
Conclusion
With that information in hand, we hope you're convinced and ready to jump into a sales channel strategy! If you have any questions or are wondering whether channel sales is really the right step for you right now, feel free to reach out: our sales experts will be happy to weigh in. Just drop a line in the comments section below!
Start 15-day Free Trial