There are certain prerequisites for any business looking to optimize its processes and grow its business. Chief among them is offering superior services and experience than its competition. But to keep pace with its customers' shifting preferences, a business must continuously collect and analyze customer data and feedback.
And how can it do that? Simple. By digitizing its processes and implementing a CRM.
CRM's full form is customer relationship management, and as its name suggests, it helps manage customer relationships. But it also helps with a lot more.
In this article, we will outline the introduction and objectives of a CRM and explain how it can help your business.
Looking for a Sales CRM to effectively manage your sales process? Try Kylas, it is easy-to-use, offers Unlimited User Lisceneces at a flat cost and is free for 15 days! Schedule Demo here!
---
What is a Customer Relationship Management Software?
A CRM software helps you target your ideal user, quickly convert prospects into customers, and manage their buying journey. You can personalize their experience and generate detailed reports that give you a comprehensive real-time business view.
Further, a CRM acts as a centralized repository of all customer data which gives contextual information to your teams. There are different types of CRMs that can be used to manage your sales, marketing, customer service, and accounting efforts. In the next paragraph, we will talk about different CRM software types.
---
Types of CRMs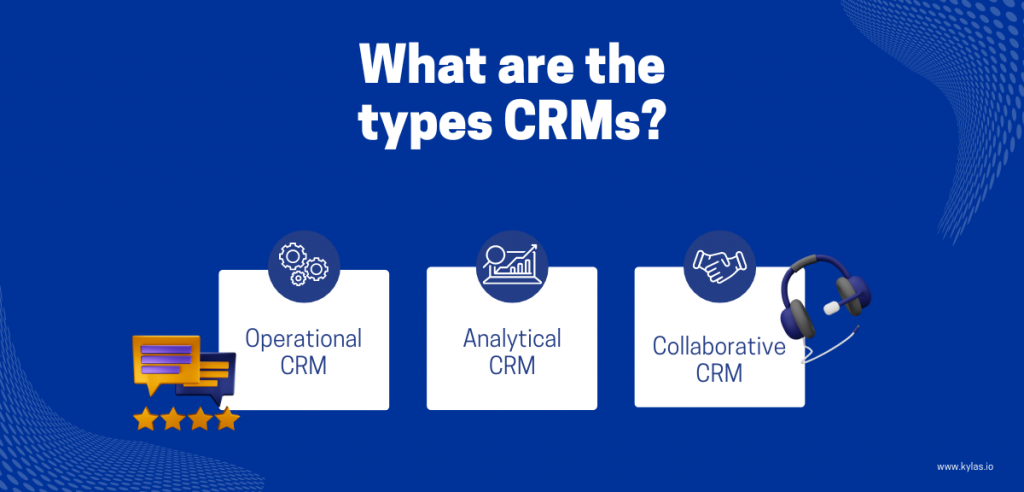 There are three main types of CRMs – Collaborative, Analytical, and Operational. Let us go through each one of them.
1. Collaborative CRM
Collaborative CRMs can help your teams in the following ways:
Provide a history of previous interactions with your customers to enable contextual conversations.
Allow team members to assign leads/deals, tasks, notes, etc. to enable collaboration.
Show you which channels are preferred by your customers.
Create meeting requests and mark them as conducted.
Integrate CRM with multiple third-party applications
Upload documents to leads/deals.
2. Analytical CRM
Analytical CRMs give you the ability to:
Gain insights into your prospects and customers
Measure and modify your team's performance in real time.
Know how your products/services are performing and make changes to underperformers.
Forecast your expenses and revenue in time.
3. Operational CRM
Operational CRMs help you to:
Automate workflows to eliminate redundant manual tasks.
Schedule tasks and reminders of important events.
Send triggered emails, messages, updates, reminders, and more, automatically.
Free your teams to focus on important tasks.
Most businesses need and use more than one type of CRM to manage their business effectively. But using multiple CRMs can be a pain as many of them do not work well with each other.
Another option is using a single comprehensive CRM, such as Kylas, which incorporates modules from all three types. Click here to have a look at the entire solution suite of Kylas.
---
Key Features of a CRM
When selecting a CRM, it's important to match its feature set with your business needs.
While no two CRMs have the same features, the following feature list is essential for any growing business.
Lead/Deal Management: Capture leads automatically from multiple sources and qualify them directly on the platform. Convert the qualified leads to deals and monitor/manage them to closure.
Pipeline Management: Create multiple, fully customizable pipelines to monitor your team's progress and finalize deals.
Contact Management: Store all your customer contacts on the CRM to create a centralized repository accessible across devices.
Communication Management: Personalize communication with your prospects and customers directly through the CRM. Save details of every interaction and gain context for future conversations.
Workflow Automation: Automate routine tasks to minimize manual errors, save time, and streamline business processes.
User Management: Secure your data by controlling user access with profile permissions, team management, and data sharing configurations.
3rd party integrations: Integrate your CRM with multiple applications such as communication platforms, payment and invoicing platforms, lead generation platforms, and more.
Reports/Dashboards: Generate multiple custom reports to monitor your business processes, team performance, revenue estimates, and more from a single dashboard.
Multiple Device Support: Access the CRM from multiple devices such as desktop, web browser, and mobile apps.
User Experience: Easily understand and integrate the CRM into your routine and workflow. A customer-friendly user interface (UI) ensures that your teams have fun using the CRM.
Customization: Customize the CRM with the features necessary for your business process. Off-the-rack solutions don't always fit your business needs.
---
How Does a CRM help your business?
A CRM system is necessary to improve your customer satisfaction levels and retain customers. But that's not all it does. Here's a look at all the benefits your business can expect by implementing a CRM:
1. Increased Sales:
CRM helps you boost your sales by up to 30% by automating tasks, streamlining pipelines, sending updates and reminders, and minimizing manual errors. It also helps you analyze sales data so that you can make improvements when needed. Automatic assignment of leads based on sources, deal-size, location, etc., ensures faster deal closures.
2. Better Communication:
It improves both internal and external communication. Your team members can chat internally, assign tasks, update notes, and get meeting reminders directly on the CRM. It also alerts the assigned team member when a client sends an email, SMS, WhatsApp, or calls on the company number so that the response time is minimal. Estimating prospects' buying intent makes sending personalized messages and updates to clients easy. It also makes previous communication accessible to a team member to maintain continuity for your customer.
3. Enhanced Productivity:
A CRM frees up your team's bandwidth to help them focus on important tasks. It provides all the customer information in a single dashboard at the touch of a button. Managers can track team performance and recommend course corrections. They can also track revenue estimates and tweak team targets to achieve their revenue goals.
4. Improved Customer Service:
Customers receive responses to their queries near instantly. They receive personalized communication and updates in their preferred mode of communication. Detailed reports based on customer feedback highlight the gaps in your processes for you to improve. You also gain knowledge of which products and services are most preferred by the customers and which aren't so that you can make changes to them and simplify the customer journey.
5. Increased Referrals:
Happy customers keep returning to your business and present opportunities for cross-/up-selling your services. They also act as your unofficial brand ambassadors and refer you to their own contacts.
---
When should you implement a CRM?
When starting out, businesses find it easy to use an excel sheet to track and manage customer information, manage leads/deals, and more. But when they scale, excel sheets start piling up, leads start slipping through the cracks, and team performance drops.
All these aggregate over time, and soon, mistakes become disastrous. At this point, the cost of not using a CRM system far outweighs the cost of implementing one.
Therefore, if you are anyway going to implement a CRM, it's better to do it right away.
Now that you know quite a lot about CRM and its benefits, it's high time that you think of getting one for your business. Click here to start a 15-day free trial of the Kylas Sales CRM (no credit card required).
---
Start 15-day Free Trial