'Agile Methodology' is one the most prominent buzzwords to have emerged from the working style of the last couple of decades. It, essentially, represents a millennial way of working and thinking that's constantly evolving.
While it may be interesting to find it so closely linked with digitization and the millennial outlook, it's not exactly surprising that – the agile way of working is in stark contrast to the sometimes rigid, mostly process-driven companies that were common in the earlier century.
What Exactly Does It Mean to Follow 'Agile Methodology'?
To be agile as a company means to be able to adapt and change quickly as needed for growth. Rather than creating a plan and sticking to it no matter what, you test out theories, run experiments and scale what's working for your end goal.
Agility is deeply embedded in a collaborative work environment that's result-driven and data-driven rather than being stuck in corporate procedures.
Are All Businesses Following the 'Agile Methodology' Today?
While each and every business may not be agile, you'll find that all successful ones which have grown exponentially in the last few years certainly are. The agile methodology is common to small businesses, simply because it works.
Having employees focused on a common end goal rather than on processes and 'the-way-things-are-done-here' approach helps bring out the best in your workforce.
And as every business leader knows today, the right corporate culture is essential to a happy workforce and a successful company.
So, if you find yourself thinking about the culture you'd like to establish in your company – whether it needs to be driven by top-down processes or by open, performance-driven collaboration – allow us to nudge you towards the latter.
The 5 Benefits of Establishing an Agile Work Culture in Small Businesses:
1. A Go-Getter Attitude to Work
Nothing sways the employees from their goals in an agile culture. The minute the requirements, priorities or outlooks of a project change, they get up and get going in the new direction, intent once again on achieving results.
When the same thing happens in a rigid work culture, people tend to freeze; not sure how to move forward or change track to deal with the new priorities.
---
2. Greater Efficiency
In an agile workplace, the results achieved matter more than factors like the work hours (though not at the cost of discipline).
You then have employees more focused on doing a good job than on trying to get by by showing others – and you – that they're working hard.
This also gives you a great yardstick by which to measure performance… actual, tangible results & merit, rather than timeliness and longer working hours that give the mere appearance of efficiency.
---
3. Increased Collaboration
In a workplace where results matter, people automatically break down barriers to make things work.
Where you'd otherwise have teams and individuals working in silos, people will now come together to discuss ideas, possibilities and ask for help. You hire people for a reason – an agile environment helps them make the most of their collective expertise and knowledge.
---
4. Increased Accountability
An agile workplace still has a hierarchy system, it just bestows more accountability on teams to handle end-to-end projects, with leaders acting as guides and giving direction.
The increased accountability on each executive leads to better results for you and more responsibility, hence more job satisfaction, for them.
---
5. Lower Attrition Rates
Because an agile environment bestows greater responsibility on each employee, that responsibility brings with it freedom and a sense of purpose.
Employees working in an agile environment are ultimately happier and more loyal to not only the company, but to you for being the torchbearer of that environment.
This graphic by McKinsey & Company effectively outlines the difference between traditional organizations as "machines" and agile organizations as "living organisms".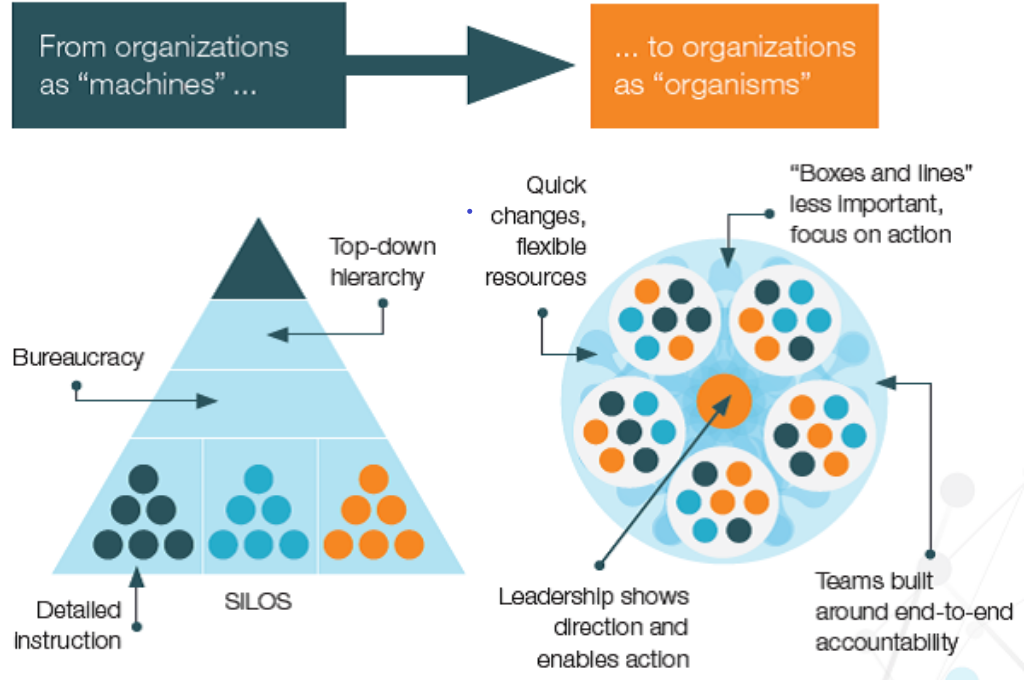 Are you convinced about the benefits the agile methodology brings to small businesses?
Consider this: If you're reading this, you're at the ideal point in your growth journey to establish a culture or make a cultural change.
This opportunity doesn't come often and it doesn't come easy – the culture you choose today will define the kind of work your company becomes known for, because it will define the kind of people that get drawn to work with you.
At the same time, you need to keep in mind that there are no cookie cutter rules to an agile culture…it doesn't look the same at every company!
Our advice would be to learn from others' experiences and then adapt it to suit your vision of your company. At Kylas, we certainly put in the long hours establishing an agile work culture that works for us.
Have any questions? Drop us a comment and we'd be happy to get back to you!
Start 15-day Free Trial