"Have you watched NBC's The Office?" Most people who are asked this question will reply with a loud and definite "Yes!"
The eight-year storyline of The Office took us along on the rollercoaster journey of the Dunder Mifflin Paper Company. Led by their goofy yet lovable leader Michael Scott, the employees of this office had a 9-5 job like many of us.
Set against the backdrop of a midsize enterprise, it showcases a lot of relatable situations for business managers and salespersons. How these situations are managed and their outcomes are valuable sales lessons for growing businesses!
---
5 Sales Lessons From NBC's Office (TV Series) That Can Help Your Growing Business
1. Plan and Establish Clear Goals for your Business
Michael's decision to quit his job and start his venture is a situation close to the heart of many new entrepreneurs. In his classic style, Michael was initially in denial about the immense work behind setting up a business and its challenges. However, on Day 1, he was hit by the reality that establishing a company was no easy feat. He was not alone in this struggle since over 20% of businesses fail in their first year.
His one and only employee, Pam, stepped up here and gave him a priceless suggestion- "We need to come up with one real thing that we could do today." Instead of having a scattered approach and trying to do 100 things at once, you need to create a plan with simple and achievable milestones. Most growing businesses miss this simple yet crucial step.
The goals that you set for your business can be aligned with your specific requirements. You can list the number of sales you wish to achieve, strategize how many new customers you want to reach out to, or even set a target of how much you want to expand your product base. The result of all these different goals will be expected- to streamline your work.
Having a clear vision and establishing a roadmap with pre-decided goals for your business will help you and your team move in the right direction.
This is a more helpful approach than trying to chase multiple avenues simultaneously. By leveraging this golden tip, Michael was able to find his Dream Team. You, too, can produce similar success for your business by giving yourself and your team a clear blueprint to work around!
---
2. Treat your Customers well
88% of companies are now prioritizing customer experience, but Dunder Mifflin has been doing this since way before! The series depicts numerous client-centric situations, which are sales lessons about the pressing need to focus on delighting consumers. Let us look at some of these situations:
a) Michael goes out of his way to give his customers a good experience. For that, he even ends up driving his car into a lake! However, his thinking was correct when he visited and made efforts to show his consumers that they were not just a source of revenue.
It does not take a lot to create a good customer experience. It can come from timely responses, being polite and courteous, or making efforts to resolve their problems.
b) When he heard the poor client reviews given to his star salesmen, Jim and Dwight, Michael rectified the situation by coaching them on performance improvement. You, too, must track your customers' perception of teams' work. If any problem areas arise, you can train them in terms of their calling, pitch, and general interactions with customers.
c) Michael maintains a client, Rolodex, which he uses to create personalized sales pitches for his clients. Personalized pitches are perhaps the best sales tactic that you can use to close deals.
A personalized approach can be adopted into your marketing material, campaigns, and communication. Don't let your clients feel like part of a broadcast list. Instead, show them that your business is personally invested in them.
d) Michael demonstrated the power of relationship selling, by devoting hours to building a good rapport with a client instead of directly jumping into business talks. He irked his boss, Jan, with this, but it is a perfect business practice to maintain.
You should gradually work towards getting to know your clients and understanding as much as you can about them. When you spend time in building a relationship with your customers, they will be more inclined to do business with you.
---
3. Research your Competitors
Knowing your competitors is just as important as knowing your teams or consumers. We all had the same bittersweet feelings as Michael when he knew Prince Paper would suffer losses due to his research. However, your business strategy must include this kind of competitive analysis. Once you know the reason behind the success of your competitors, you can amend your business practices to involve the things they get right.
However, competitor analysis should not be approached blindly. You first need to identify the areas in which they are outperforming you. Then, you can break down specific metrics regarding which you need information. Similar to the data points Michael was given, you, too, should prepare a list of parameters before conducting your research.
Such well-planned and well-executed research offers valuable insights into how your contemporaries perform. Michael and Dwight learned about their competitors' products, delivery methods, and client details. You can leverage similar facts to boost your sales.
---
4. Embrace Technology
If you are a sales manager in today's times, you must be more receptive toward technology than Michael was! Not just Michael but all the employees of Dunder Mifflin had reservations against adopting technology and digitization. The sales lesson is that you must embrace technology to have a successful business when up to 27% of consumers have transitioned to online purchases.
"Well, I kinda feel like what we have going for us is our customer service, and no matter how we change this up, I don't know that a website's going to be able to replace that."
Jim's misconception is seconded by many people, who feel that technology takes away the personal touch from a business. However, technology can only make your services better! It makes your work more efficient and effective, which will help you serve your customers better! Tech adoption in the form of CRM can be beneficial for all businesses, but especially for growing businesses. You can also focus on creating a social media presence for yourself, improving your website and mobile applications for seamless usage, and utilizing emerging technologies like VR and AR in your marketing.
---
5. Value every Member of your Team
As per surveys, 52% of business owners feel that the quality of labor is an essential concern for their business. When you have good team members, it is essential to make them feel respected.
One of the biggest reasons Michael could create a healthy work culture was his treatment of his employees. He valued them as individuals as well as resources of the company. He put his faith in the receptionist, Pam, and helped her evolve into a salesperson. Dunder Mifflin also accepted good ideas from wherever they came. A fine example is when the warehouse foreman Darryl's ideas were used to optimize the sales and delivery system of the company. You can implement strategies like incentives, bonuses, fun activities for your staff, and team bonding events to let them know that you care for them. Such practices can give a company a set of loyal, hardworking, and dedicated employees. Consequently, these resources will produce the best results for the company!
---
Conclusion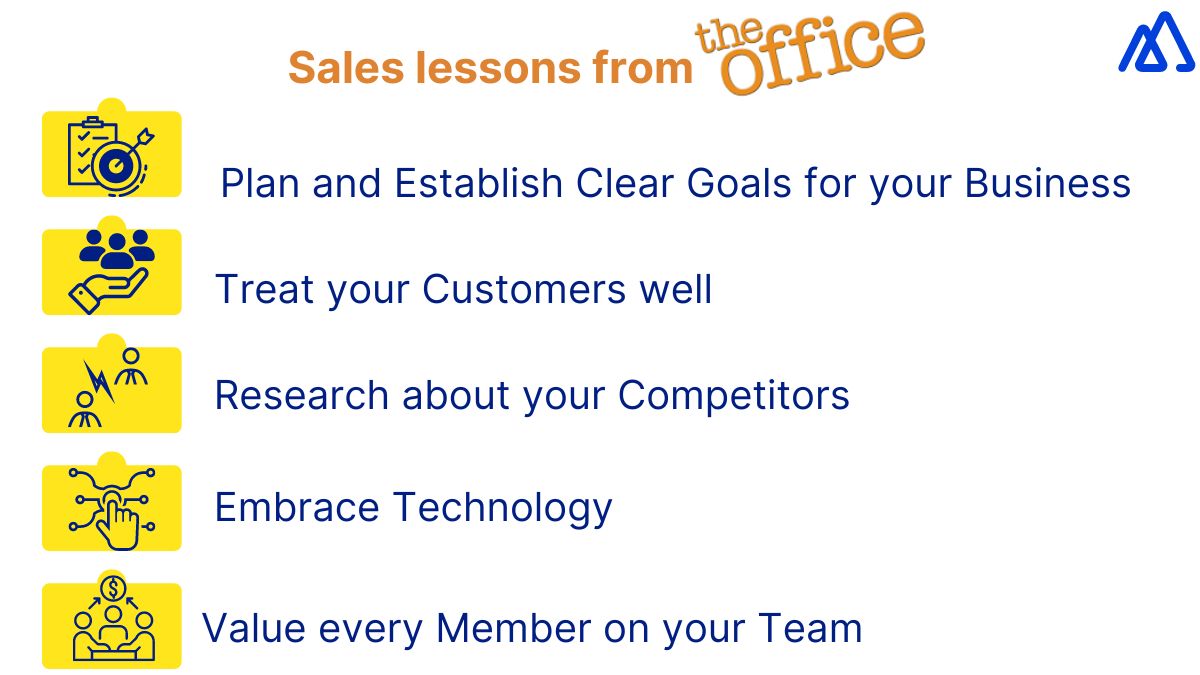 If we analyze the instances depicted in The Office from this perspective, they become an educative experience in sales. There is a lot to learn from every character in this show. Dwight is a pioneer of workplace sincerity, and Ryan offers innovative ideas, even if many of them do not materialize! By taking these sales lessons and adopting them into your practice, you, too, can achieve the success levels of our favorite Scranton branch!
Kylas Growth Engine is a robust CRM tool for growing businesses that can help you scale your sales! It can streamline your end-to-end operations and optimize the work of all your teams. It is the ideal companion to achieve high business productivity.
Start 15-day Free Trial