In the world of sales, fears can be like stubborn roadblocks, making the journey a bit nerve-wracking. Imagine this: the fear of hearing a 'no,' the worry about not meeting targets, or the anxiety of the unpredictable. But here's the secret sauce for success in sales: Understanding and overcoming these fears.
Imagine turning each fear into a ladder; one that takes you straight towards high closures. We're here to address and demystify these challenges, and to equip you to navigate the sales landscape with utmost confidence. It's time to conquer these fears and make every sales pitch an exciting adventure rather than a daunting challenge!
---
1. Sales Fear While Prospecting
Sales prospecting entails identifying and contacting potential customers to bring in new business. Sounds simple enough, yet it is the most difficult part of the job for 40% of salespersons. The process requires them to put themselves out there, connect with people who may not be responsive, and try to get their point across. This is no easy feat, and salespersons often have some worrying thoughts:
1.1 "What if I Cannot Identify the Right Prospects?"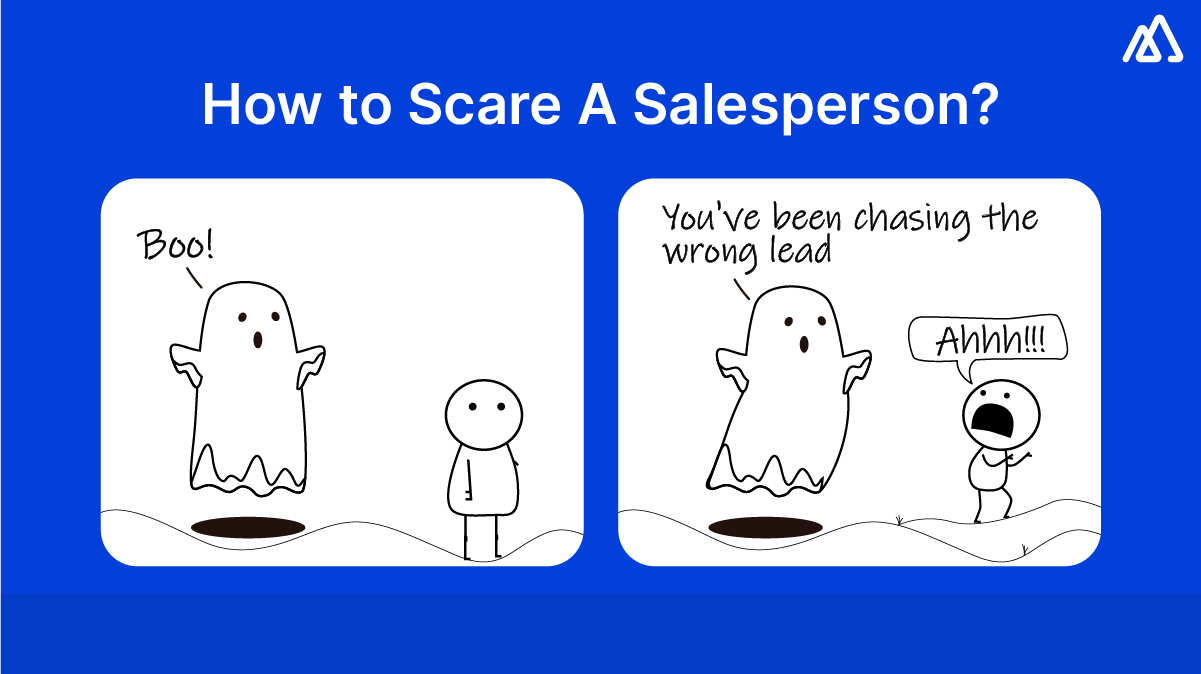 This is something that worries salespersons right at the outset. And rightly so, because identifying the right prospects is the very start of your sales process. You don't want to chase a prospect that will not convert, but you don't want to dismiss a promising buyer either.
If finding the middle ground between these scenarios scares you, this is what you can do:
✅ Shortlist the essential requirements for your ideal buyer.
✅ Leverage data-driven tools to analyze customer behavior for insights into potential prospects who align with your offerings.
✅ Select a suitable qualification strategy such as BANT, or ChAMP to help you focus on the relevant criteria.
✅ Devise a proper lead scoring system to prioritize prospects based on their fit with your product or service.
✅ Leverage a CRM like Kylas to streamline your prospecting efforts, track interactions, and provide valuable insights into prospect behavior.
✅ Rely on the referrals coming in from prior clients, as they often know others who could benefit from your product or service.
---
1.2 "What if the Prospect Hangs up After Picking up My Call?"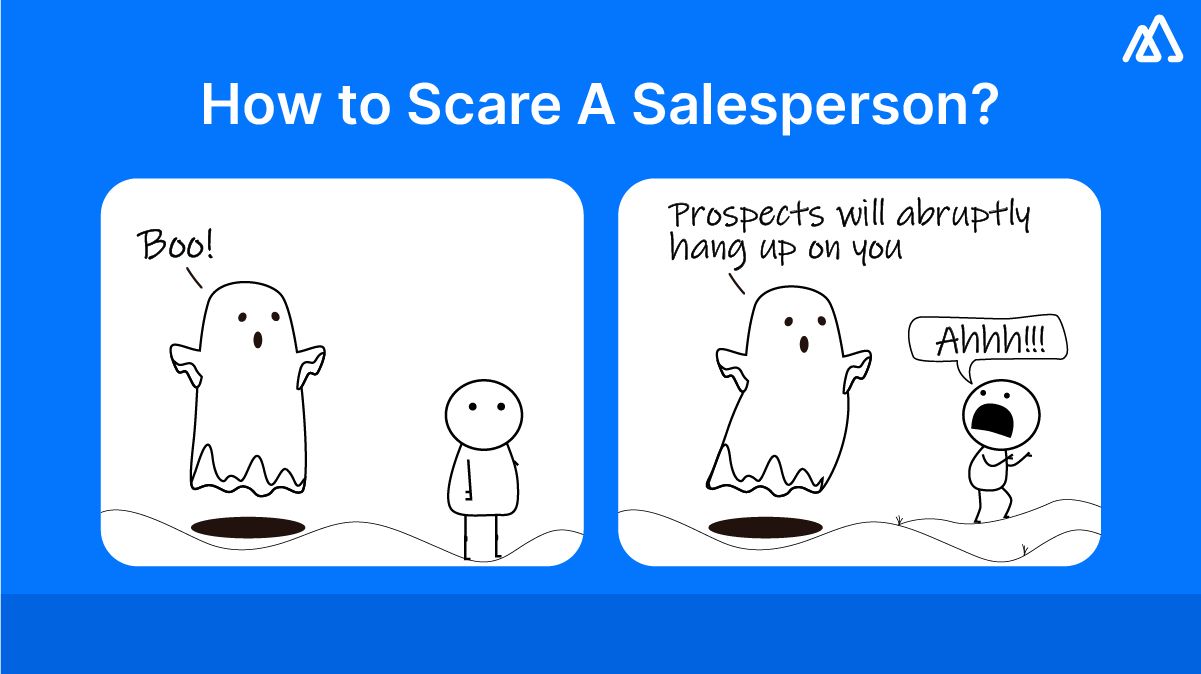 It is highly disheartening for a salesperson to hear the blaring beep from the other end when a prospect hangs up. Perhaps you caught them at a bad time or couldn't engage them well enough. Whatever be the reason, here are a few things that can help you:
✅ Research about the right time to make calls. This can increase your conversions by up to 49%.
✅ Get to know your prospects beforehand, especially their pain points and requirements.
✅ Focus on saying/asking things relevant to your prospect right from the get-go so they're more inclined to stay on the line.
✅ Craft an engaging script that includes the right questions and information. But while using it, ensure you keep it natural and don't sound robotic.
✅ Share success stories or case studies that resonate with your prospect's situation, making your solution more relatable.
✅ Leverage visual aids during the call, such as slides or product demos to enhance understanding and capture the prospect's interest.
✅ Introduce a time-sensitive element to your pitch that creates a sense of urgency and motivates the prospect to keep listening to you.
Even after this, your fear still may come true. In that case you can attempt to reach them on other channels like email or WhatsApp or connect with them on networking platforms like LinkedIn to maintain an open channel of communication.
---
1.3 "What if the Prospects Ignore My Messages?"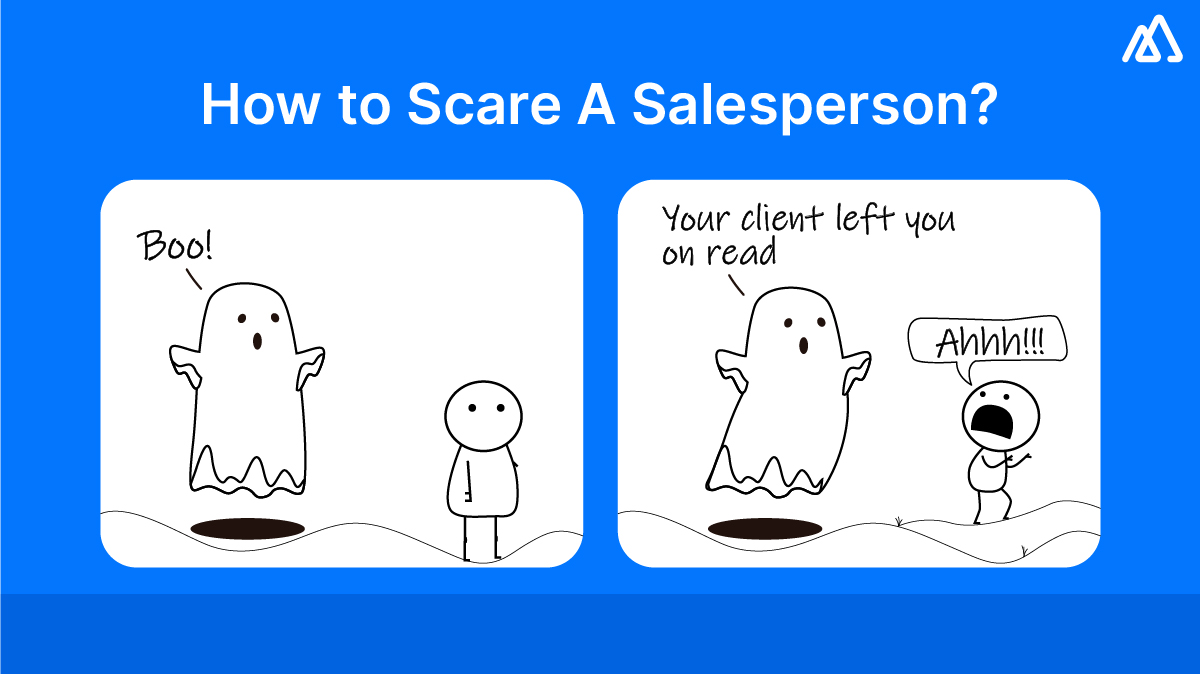 Besides calling, email and WhatsApp are other powerful channels to connect or follow-up with prospects. Calls are often unsuccessful because your prospects are not free or ready to consider your solution at that particular time. Instead, emails and messages allow you to slowly cultivate a relationship in a way that suits your prospects better.
But this strategy can bring results only if your prospects engage with you. If you're scared that they will ignore you, these measures may help:
✅ Tailor the communication to align with the specific needs of the prospect, since up to 72% of customers only engage with personalized messages.
✅ Reach them at the right touchpoints with relevant content for where they are at in their buyer's journey.
✅ Try to help without asking for anything in return. This adds value for your prospects and increases chances of engagement.
✅ Set the stage for an interactive dialogue with open-ended or thought-provoking questions.
✅ Incorporate multimedia elements like images, infographics, or short videos into your messages as visual content boosts engagement rates.
✅ Use a conversational tone in your messages without complex language. Clarity and simplicity will make your communication more approachable and encourages prospects to respond.
---
2. Sales Fears While Nurturing & Negotiating
After zeroing in on your prospects and establishing contact, the next stage is nurturing them towards closure and negotiating a deal. Your prospects will now be closely scrutinizing you and the product. This translates to more challenging discussions. Additionally, negotiations are a tricky landscape to navigate, that often puts salespersons in a tight spot.
2.1 "What if I Cannot Answer a Prospect's Tough Questions?"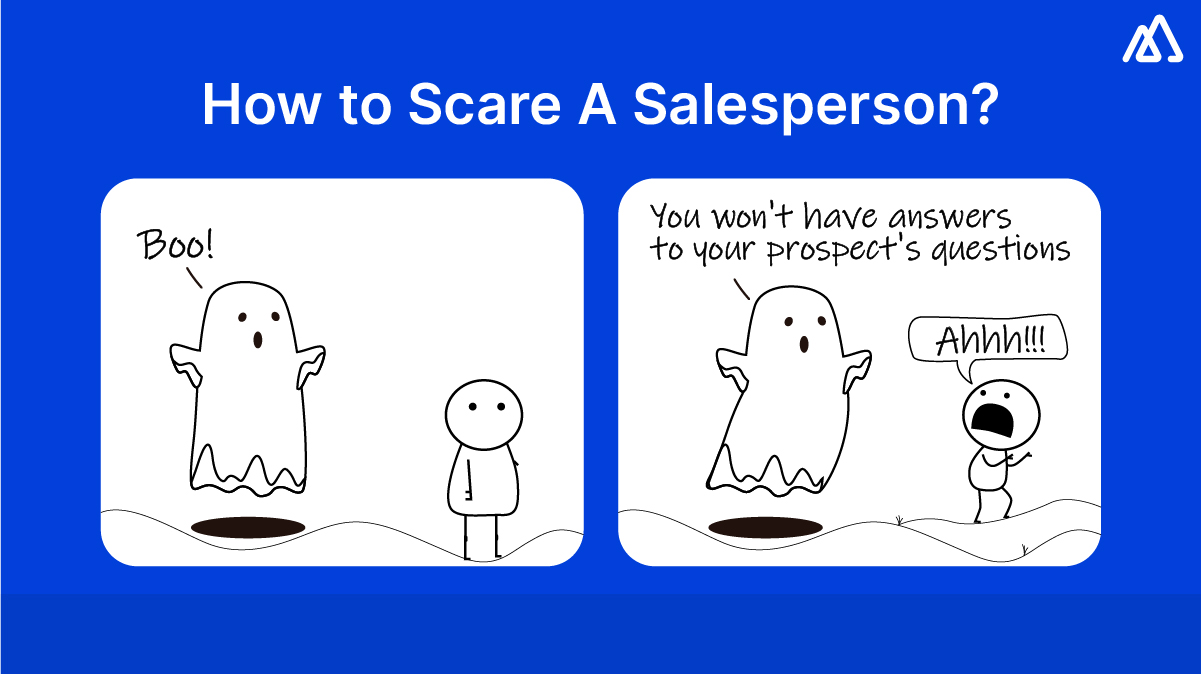 No salesperson wants to evert revert with an, "I don't know." You do your best in learning about your product, your company, and even the prospect. Hence, a common fear is having to admit that you can't answer their questions.
✅ Acknowledge the validity of the prospect's question. Validate their concerns to show that you understand and respect their perspective.
✅ Put yourself in the prospect's shoes and list the concerns that come to your mind. Ensure that you have answers ready for these.
✅ Learn from your peers and have open discussions regarding their talks with prospects. You can gain more perspective on the questions you may have to field, and how you can do so.
✅ Besides just learning about the product and company, stay apprised of industry & market trends, and competitors.
✅ Do not get defensive or appear frazzled. Maintaining a calm and composed demeanor will help you cope with such situations better.
✅ Tactfully convert the challenging question into an opportunity to showcase the positive aspects of your product or service.
✅ If faced with a difficult question, express your willingness to work together to find a solution that aligns with the prospect's goals and concerns
However, there still might be some questions that will catch you off-guard. Ask for some time to verify the facts and revert to your prospect once you have the correct information. This goes a long way towards establishing trust. Do not offer them the wrong answers just for the sake of giving an answer, as it may undermine the credibility of everything else you've told them.
---
2.2 "How Do I Strike the Balance Between Pushing Too Hard or Too Little?"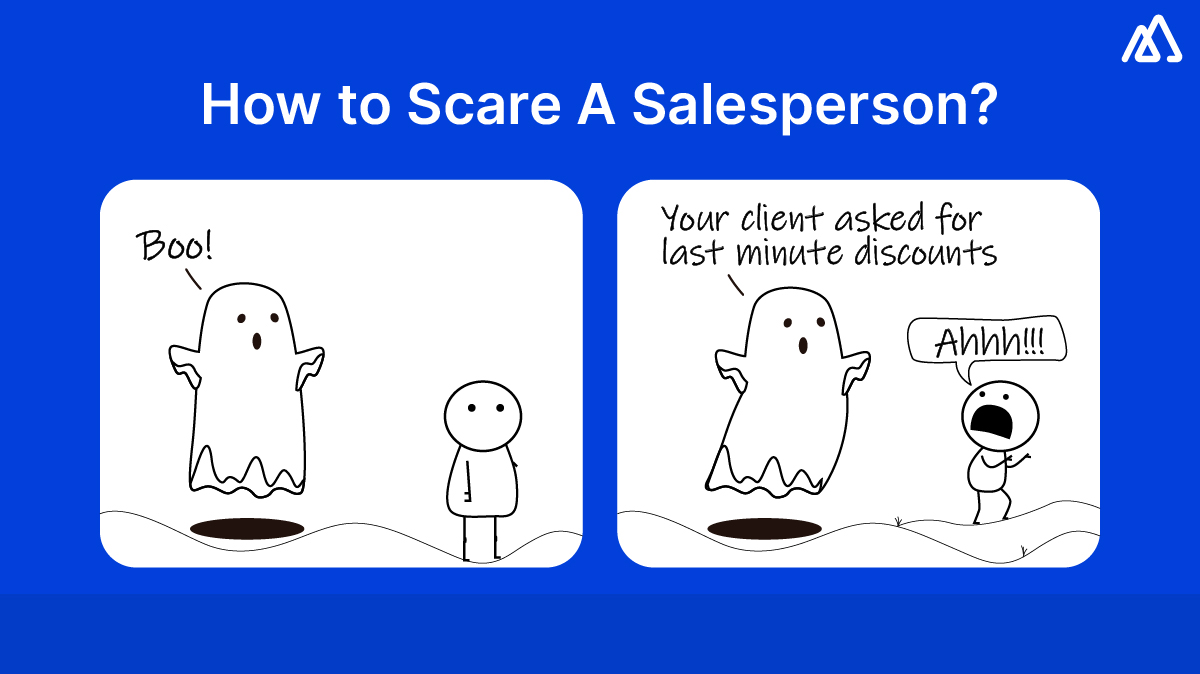 Negotiating is like walking a tightrope. Push too hard and your prospect may back out. But push too little, and you end up giving too much away. Every salesperson fears not being able to strike the right balance, but we have some tips to help with that:
✅ Enter the negotiation with complete details of the prospect's need for your product, budget, and purchasing role.
✅ Thoroughly understand the prospect's concerns.
✅ Establish clear goals for the negotiation. Define your ideal outcome and alternative options, allowing flexibility while ensuring you stay focused on achieving mutually beneficial results.
✅ Work with your buyer to meet their objectives, and showcase that you're there to cooperate with and help them.
✅ Manage both yours and your prospect's emotions. Do not let your frustration or irritation show, and make your buyer feel valued and respected.
✅ Get comfortable with the idea of walking away from a negotiation that is not progressing. Do not give in to the pressure and settle for less satisfactory deal sizes.
Click here for some of the best practices you can adopt while dealing with difficult negotiators.
---
3. Fears While Closing
Closing a deal is the culmination of all the activities you've done so far. You have already identified and nurtured the right prospect, worked out mutually agreeable terms, and now you're at the threshold of finally making the sale. But it is this final stage that 35% of salespersons consider the toughest part of the job.
3.1 "What if They Say No?"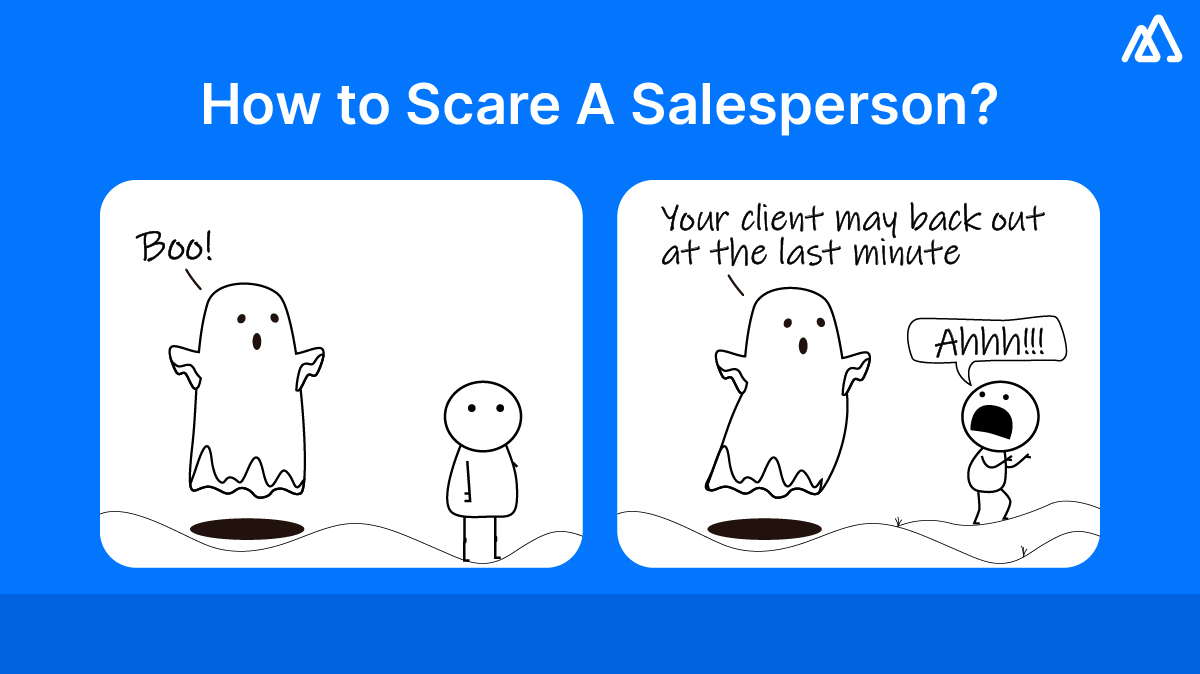 Rejection is the leading source of disappointment, and self-doubt in salespersons. Sometimes, you can do it all, but the buyer backs out at the last moment. It is hence valid that you fear hearing a "no". However, there are a few measures to overcome it and become more resilient in your job.
✅ Tailor your pitch to address these specific requirements, ensuring your solution aligns fully with what they're looking for.
✅ Anticipate potential objections and be ready to address them proactively.
✅ Ensure that all checkpoints, including the relevant documentation, have been covered. This ensures no curveball comes your way at the closure stage.
✅ Provide a roadmap for what comes next not to demonstrate your preparedness and guide the client smoothly towards closure.
✅ Periodically review your sales strategy to stay at the top of your game.
✅ Evaluate your performance in terms of speaking & listening skills, mindset while selling, etc. This will help you learn from past mistakes and reduce the fear of deals falling out at the last stage.
However, sometimes doing everything is also not enough. At such times you must remember that the rejection is not personal and bounce back towards working on the next deal.
---
3.2 "What if I Can't Meet My Targets?"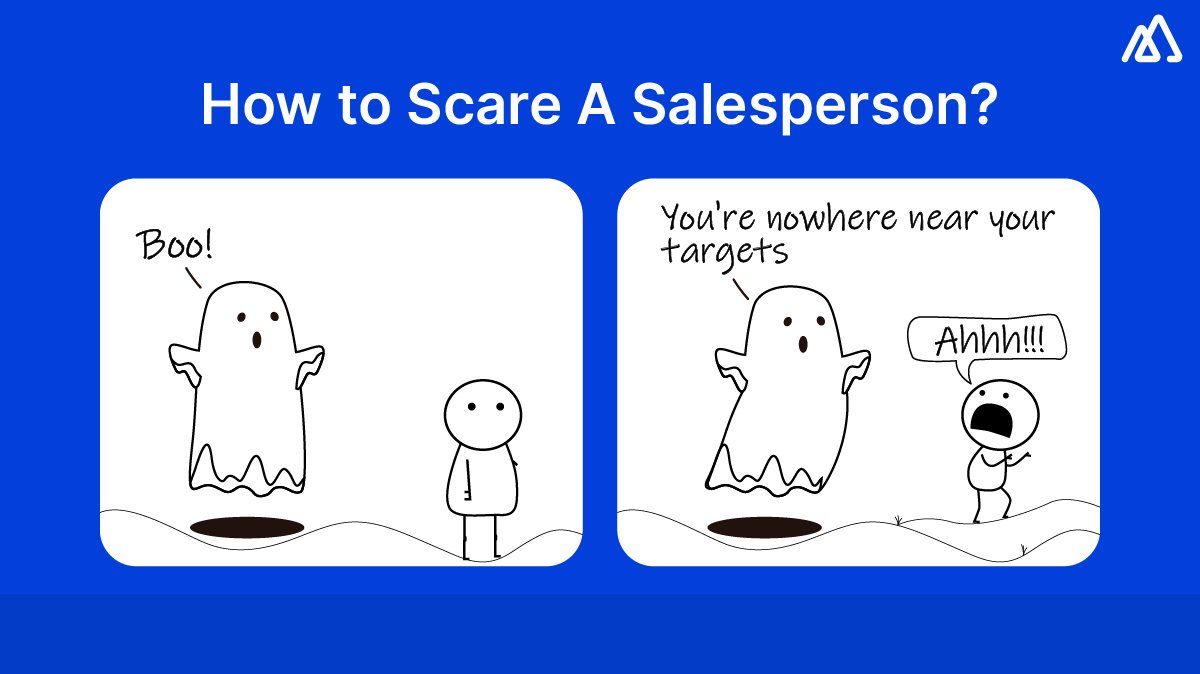 Salespersons work with targets looming over their head, and it often adds to the pressures of the job. As a by-product of the fear of deals falling out, they worry about not meeting their targets.
Here's how you can keep this fear at bay:
✅ Stay well-informed of your targets so you have a clear picture of where you stand.
To effectively do so, you need Kylas! You can easily track your goals and achievements, and get customized reports against every goal.
✅ Have open discussions with your manager regarding your targets. Express any concerns, or confusion that you may have.
✅ Evaluate your work prior to the deadline. If you're falling short, prioritize the deals that have higher chances of closing or higher ticket sizes.
✅ Stay updated on industry trends and continuously refine your sales skills to navigate the evolving market conditions and meet targets effectively.
✅ Conduct regular assessments of your sales strategies. If certain approaches are not yielding results, be open to exploring new tactics.
✅ Cultivate strong relationships with your clients. A loyal customer is more likely to make repeat purchases, contributing to long-term success in meeting and exceeding sales targets.
---
4. General Sales Fear
There are some other fears too that salespersons face that aren't specifically linked to any aspect of their work. These stem from a lack of confidence, challenging market conditions, or dynamic buyer mindset. It's only natural for such fears to sometimes creep up, yet there's some things you can do to combat them:
4.1 "What if I Just Can't Cut It in Sales?"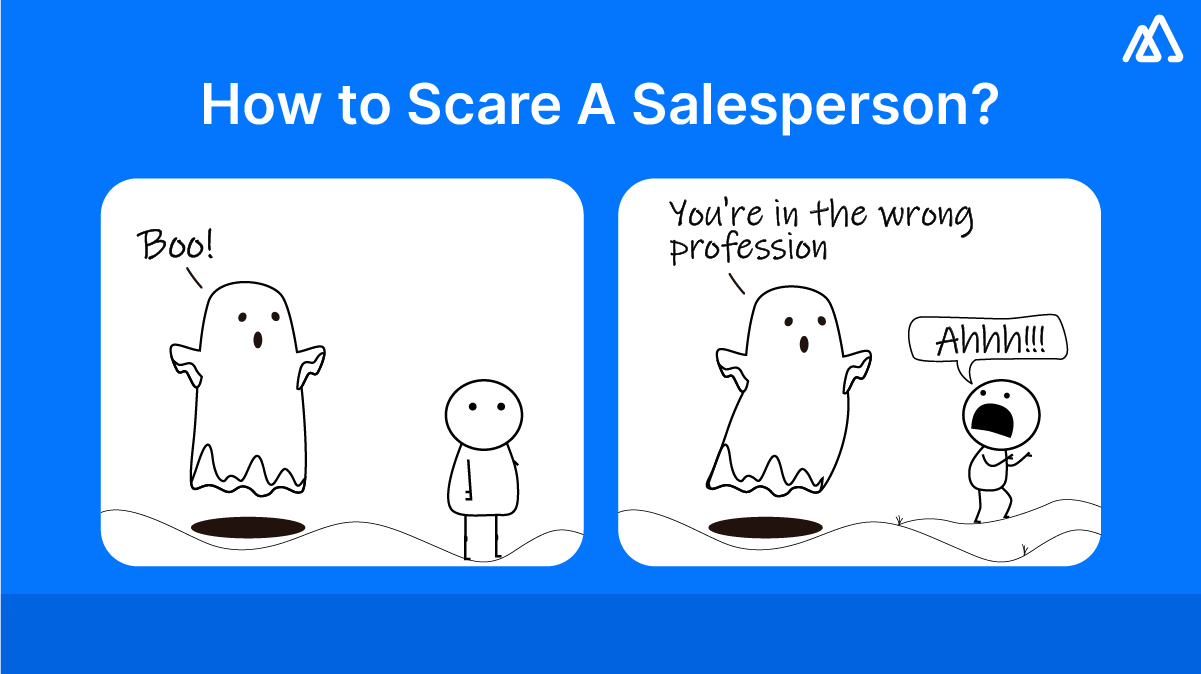 The end of a bad quarter or two might push you to introspect whether you were meant for the job. You must remember at such times that sales success is highly dynamic. Bad days will inevitably be followed by good days, but you need to be patient with yourself.
Your skills are your biggest asset, so keep honing them. Learn from your peers, work on your communication skills, and understand your consumer and product better. Most importantly, learn from your mistakes. They will guide you on what you should or should not do going ahead.
---
4.2 "What if There's No Demand for My Product?"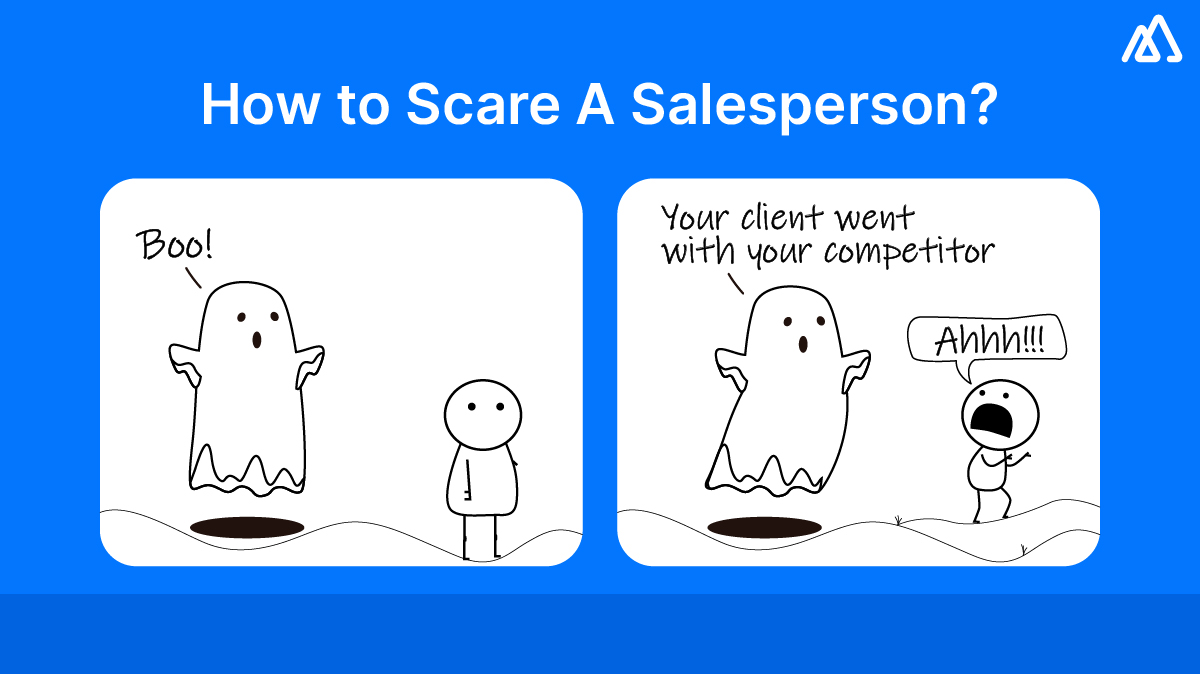 Since your work is directly linked to the product, you might fear the outcome of a lack of demand for it. But here's the secret: Your product might be just what someone's been looking for; all you need to do is find them!
There will always be demand for a product if you're looking in the right place. Thoroughly understand the nuances and value proposition of your product. This will help you zero in on the type of buyers you need to target. Once you start exclusively working on such buyers, it is bound to generate positive results and you won't have to fear your product losing its demand.
---
Ending Note
The key is to remember that sales is a highly nuanced, often challenging, yet highly exciting job. The fears will always remain to some extent, but you can strongly tackle them with your skills, self-confidence, and hard work!
Start 15-day Free Trial