If you are gradually scaling your business and have a sales team to efficiently run your business in India, you may possibly be using the services of TradeIndia frequently for lead generation.
Before moving ahead, let's answer the question- what is TradeIndia? It is a growing business portal, which provides information about Indian and global buyers and sellers. With about 12000 product categories and sub-categories, it offers numerous services such as online business catalogs, Dial B2B, Trade Alerts, Call Me Free Service, trade leads, credit reports, and so on.  
Furthermore, you can explore the portal on your mobile phone by installing a special mobile-optimized version.
---
What Happens When You Search for a Product or Service on the TradeIndia Page?
TradeIndia acts as a virtual platform through which businesses can find other businesses. It helps you to obtain a list of manufacturers, vendors, resellers, distributors, and so on. The portal doesn't charge you for searching vendors.
However, if you want to enroll your business in TradeIndia, you will have to opt for a specific subscription plan as per your requirements and budget.
Most importantly, when a user visits the TradeIndia search listing page about a particular product or service, they can be considered a 'potential lead' for that particular product or service.
Many growing businesses capture leads from TradeIndia in order to upgrade and expand their lead database. They often take it to the next level by integrating TradeIndia with their automated CRM software.
---
Benefits of TradeIndia Integration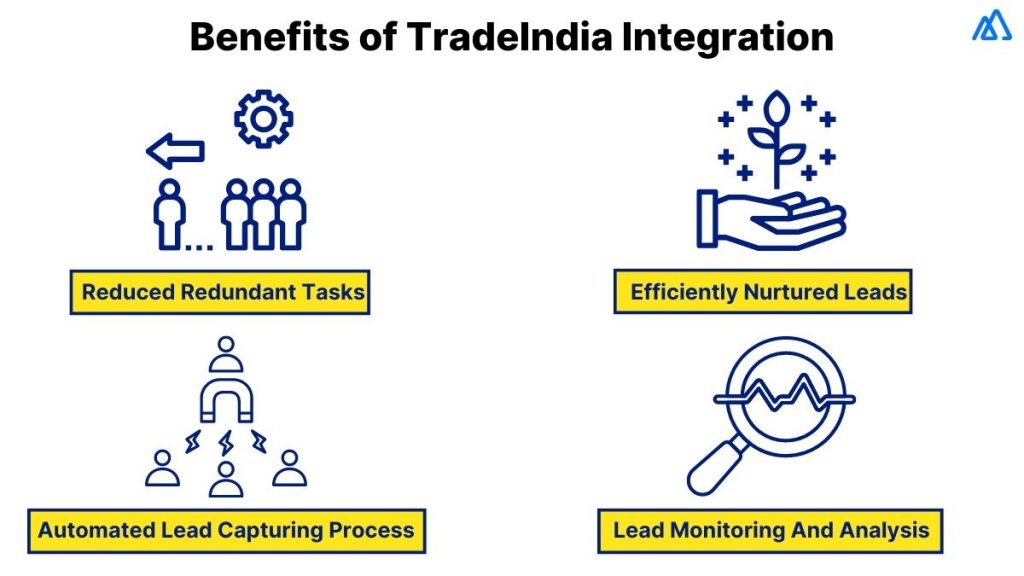 Let us explore how TradeIndia integration can introduce transformational changes in lead generation which can eventually benefit your business.
1. Reducing Redundant Tasks of Sales Reps
Sales representatives need to spend their time building relationships, nurturing leads, and closing deals — not manually entering data or performing cumbersome administrative tasks.
An efficient CRM provides automated facilities that ensure that your sales reps save time by not carrying out repeated redundant tasks. Instead, they can concentrate their efforts on various productive activities such as following up with the leads and scheduling meetings with them.
2. Nurturing Leads Efficiently
A study from Marketo found that Companies that nurture leads generate 50% more sales at 33% lower costs.
A CRM also aids in the creation of a pipeline of automated and personalized emails to be sent to the lead at different points in time. This assists you to convince the customer that your product or service is worth the investment.
With a CRM, you can personalize the nurturing process through emails and drip campaigns, while making it more engaging.
3. Automate The Lead Capturing Process
With TradeIndia, you can automate the lead-capturing process. Accordingly, the CRM software will easily capture the details of any client who is searching for your product or services on TradeIndia.
This will get simplified furthermore, and your sales team can instantly receive the details of the lead so that they can proceed with the follow-up process through e-mails or SMS. This will prevent the leakage of any lead and ensure that your business doesn't lose the lead details. Moreover, the CRM ensures that the data is added to the centralized database.
4. Monitoring And Analysis Of Leads
A TradeIndia integration not only assigns leads to your sales reps. It also helps in tracking your leads. The right CRM can assist you to attach a pipeline to the lead and conducting follow-up on leads that go cold at any given time.
You can create customized reports while analyzing the performance of your leads, rates of lead conversion, and quality of leads. Furthermore, you can monitor the leads generated from TradeIndia and make better business decisions.
---
TradeIndia Integration in Kylas
With a TradeIndia leads integration app, you can capture the leads directly in your Kylas Sales CRM account.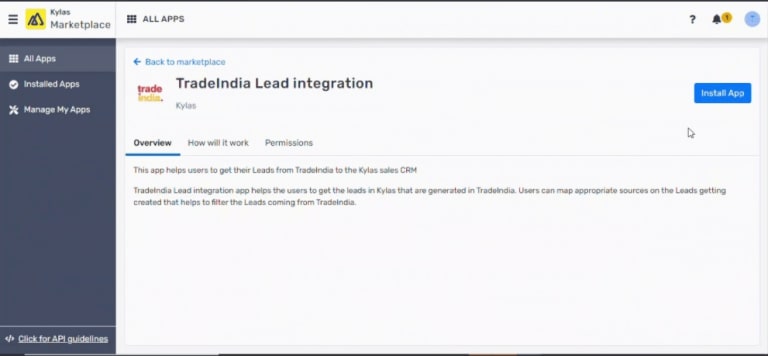 It is very easy to connect the Kylas CRM to TradeIndia. What you need to do is nothing but follow the steps mentioned below:
Step 1:
Navigate to the following URL – https://tradeindia.integrations.kylas.io/users/sign_up and create an account using your email-id. Or Navigate to Kylas marketplace > In All apps option select Trade India,> Click on Install App.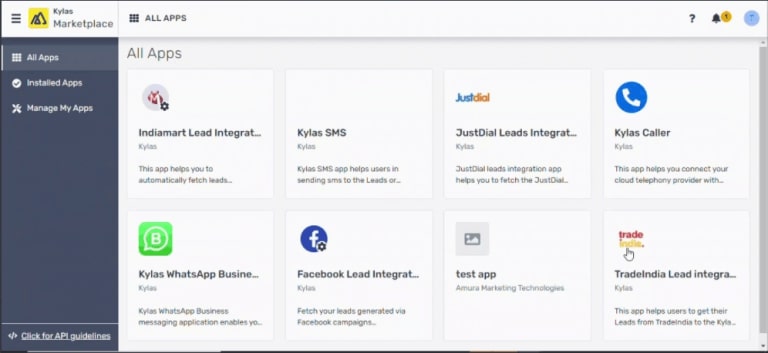 Once you have completed filling in the details, then click on the Sign Up for Free button.
Then an email will be sent to your registered email id. Click on the Verify button to complete the signup process.
Step 2:
After completing the sign-up process, you have to log in to the app using your registered email id and password.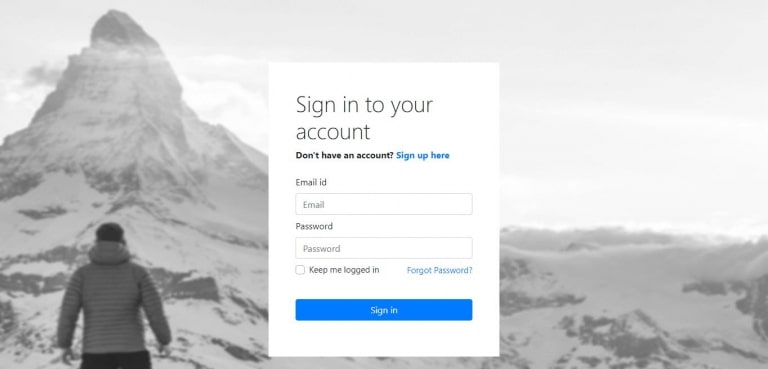 Step 3:
Then you have to go to the landing page and enter the Kylas CRM account API key.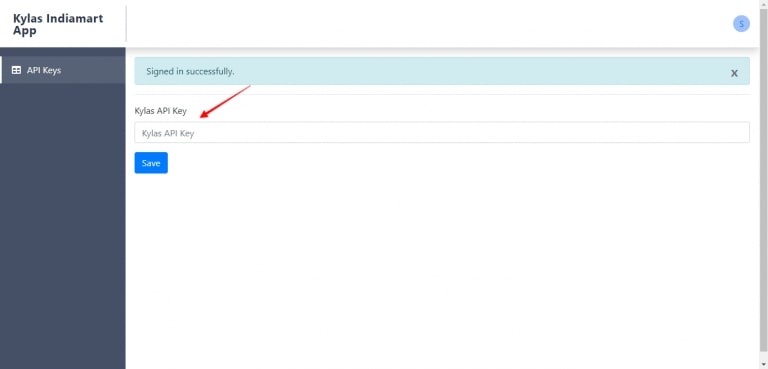 Step 4:
After the validation of the API key, you will be directed to a landing page in which you need to enter various credentials related to your Trade India account such as User ID, Profile ID, and Trade India API key.
In the next step, you have to select vendor and source as Trade India and click on the Save button.

Once you are done with the above step, the leads associated with your Trade India account will be captured in your Kylas CRM account. Also, you can see the logs of all the leads sent from Trade India to Kylas in the Lead log section on Kylas Trade India App as shown below: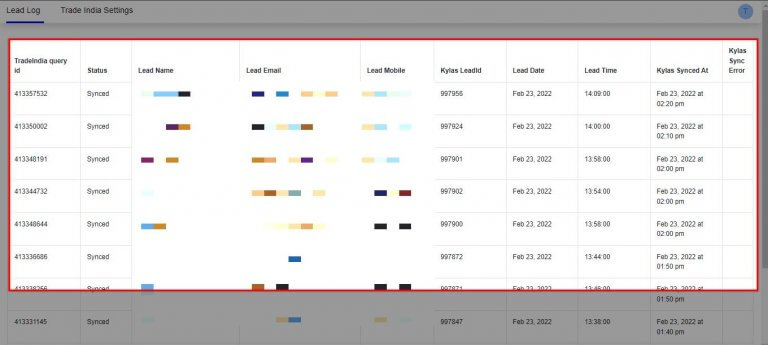 If you don't want to miss any leads from TradeIndia, sign up with Kylas CRM. You can enjoy a 14-day free trial of how Kylas CRM works. You can start with the trial by clicking here.
Start 15-day Free Trial