It is every business's dream that all customers who reach their website will take some favorable action like scheduling a demo or making a purchase. However, this remains something that they can only hope for, because 96% of such web visitors are not ready to make an immediate purchase.
You don't want to become an example of out of sight, out of mind here. Your brand and product must be smartly placed in front of these customers who showed an initial interest, but never took it ahead. This way, they will be directly drawn towards you when they are ready to make a purchase.
All your lost opportunities stand a chance of being converted if you can zero in on the right customers and send across the right content. That's the power of ad retargeting.
What Is Ad Retargeting & How Does It Work
In simple terms, it means making your ads follow those customers who exit your website without making a purchase. The buyer's journey today has drastically changed. Though you might have healthy incoming traffic for your website, there are lot of factors at play which will make potential customers slip away. While you cannot prevent them from leaving, ad retargeting ensures that they remember you and will come back to you. This strategy can help you get sales from up to 70% of your retargeted customer base.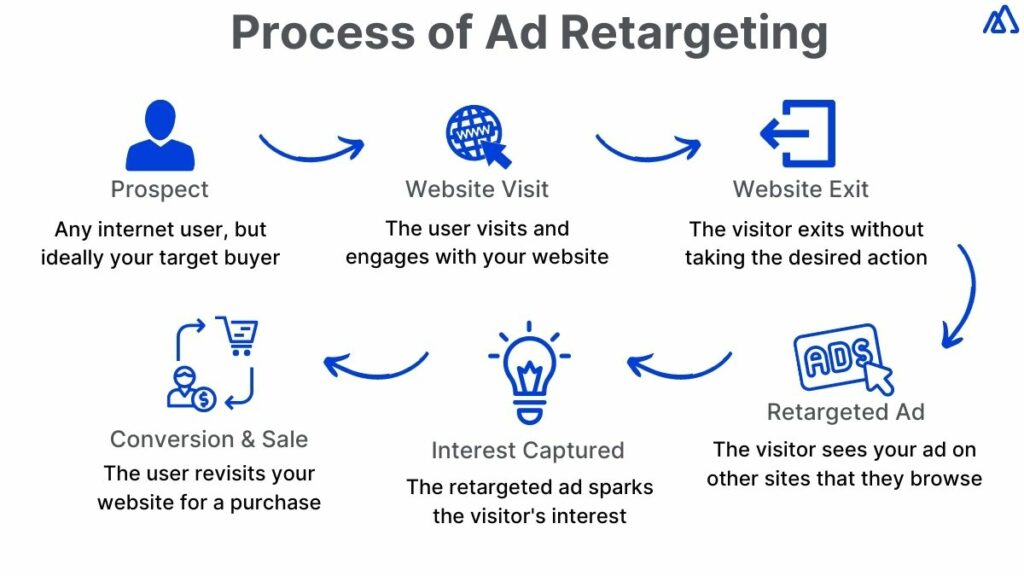 With this understanding of the concept, you must be now wondering how it practically works. With millions of web users all over the world, how can a business identify the customers who need to be retargeted?
Pixel-Based Retargeting
It is named so because it uses a JavaScript code (a pixel) attached to your website for tracking customers. This pixel places an anonymous cookie in the browser of any visitor to your website. Once they exit your site, this cookie alerts ad retargeting platforms to show your ads to the visitor wherever he goes online.
The plus point of this method is the speed at which it works. Your visitors will start seeing ads almost instantaneously after leaving your website, which might tempt them to quickly revisit it and take the desired action.
List-Based Retargeting
This approach can be applied to retarget those visitors whose email addresses you have collected in your database. You then create a list of these email addresses, upload it on a retargeting platform, and start showing your ads to these select visitors.
There is high scope here to personalize your content. You can segregate your database into smaller lists and modify the ads that each segment sees to best align with their needs and preferences. 40.5% of customers prefer seeing ads targeted to their interests and this can boost your chances of conversions.
Editor's Note: Retargeting & Remarketing- These terms are often used interchangeably, but are they really the same?
They work towards the same goal, but each has a slightly different approach. Retargeting, as we know, relies on ads to acquire customers who have shown an interest in your brand. However, remarketing relies on emails to re-engage customers who have previously done business with you.
---
Creating the Best Ads for Retargeting Campaigns
Retargeting ads perform approximately 10x better than regular display ads. Despite this, many businesses stick to using the content of their standard campaigns to retarget audiences. This prevents them from gaining the full benefits that retargeting can offer.
Instead, there are some tips that can help you create specialized content for ad retargeting and engage your audience effectively: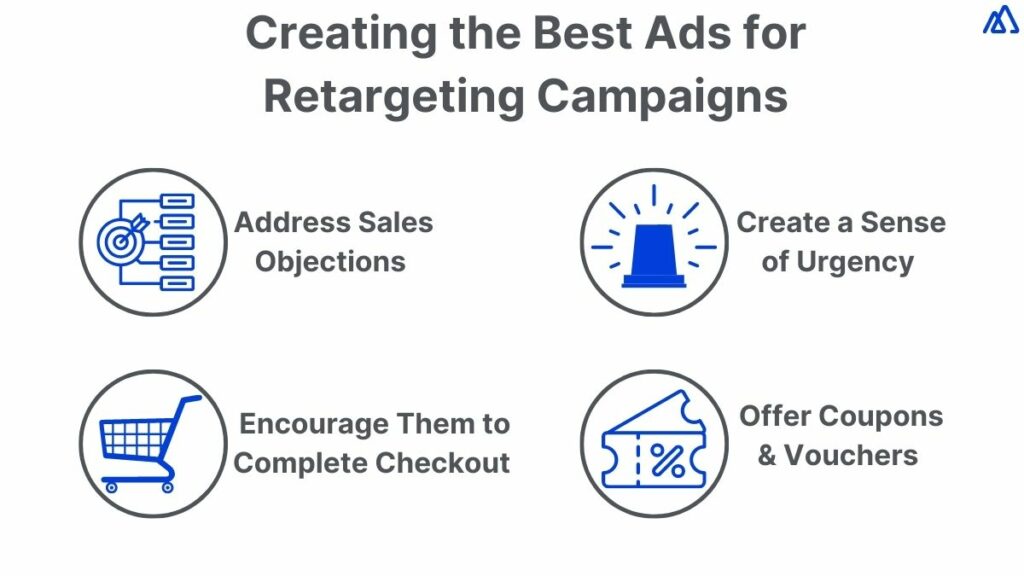 1. Address Sales Objections
The recipients of your retarget ads already know about your brand, so generic content will not add value for them. You should take this opportunity to address some challenges that they may be facing and convince them to make a purchase. Your sales team will be aware of some of the common hesitations faced by your prospects, and they can help you identify these concerns.
Let's take an example of a B2B SaaS ad. Customers are typically focused on aspects like the set-up time or implementation support. Your copy should convey how fast you can get the system up and running for them, and the ways in which your brand will support them through their usage.
2. Create a Sense of Urgency
FOMO- Fear of Missing Out, is a very real feeling experienced by almost everyone. You can use this to your advantage and create a sense of urgency in your ads. Phrases like 'limited time offer', or 'last few remaining' hasten the decision-making process and nudge your audience to take the plunge.
Leverage the power of images too and include elements like an hourglass or a ticking clock to further depict the urgency. This has dual benefits of increasing your conversions as well as click-through rates.
3. Encourage Them to Complete Checkout
The average cart abandonment rate is 70.19%. If your prospects have gone to the extent of adding items to the cart, it means that you've won half the battle. You have attracted your ideal buyer and sent them to a targeted landing page, where they found their desired products. Now, all you need to do is gently remind them to revisit their cart and complete the checkout process.
4. Offer Coupons & Vouchers
Coupons and vouchers are a great way to incentivize prospects. Remember, your goal with ad retargeting is not only to tell audiences about your products but to motivate them to buy from you. Since you will benefit from their purchase, it is only fair that they should also benefit from you.
The foundation of creating good retargeting ads is understanding your customers. Kylas not only stores all your customer data but offers actionable insights to help you curate your retargeting campaigns. To know more about how Kylas strengthens customer relations, schedule a demo now!
---
Top Platforms for Ad Retargeting
Once you have identified the type of content for ad retargeting, the next step is identifying the right platforms to disseminate it.
Facebook Retargeting
Being one of the oldest social media platforms, Facebook has a huge user base that you can advertise to. It is hence no surprise that Facebook marketing generates the highest ROI compared to other social media channels.
We have already seen the 2 main strategies used to identify the audience that you need to retarget. You must make some slight tweaks to these to apply it for Facebook ad retargeting:
CRM-based retargeting uses the list approach and is dependent on the data collected by your CRM software. Let us see a real-world example of how a system like Kylas empowers your strategy. You can integrate your CRM account with the Facebook Remarketing app and retarget your existing leads and customers on Facebook. It enables you to create personalized campaigns that will optimize your ad retargeting and generate positive outcomes.
Besides this, Kylas has a variety of other applications that can be integrated with your CRM account. You can effectively conduct all your operations from a unified platform, without having to switch back and forth between applications.
Secondly, you can leverage the pixel approach and track users with an event-based strategy. You can define specific events like a product search, adding of a product to a cart/wish list, engaging with your posts/videos on Facebook, etc. Once your audience has been identified, you can launch a Facebook Ad Campaign to build your brand awareness and scale conversions.
Google Retargeting
92.63% of all global searches happen on Google. This large audience pool, coupled with the fact that it is cost-effective and highly customizable makes Google ad retargeting a powerful strategy. You can also leverage the robust data insights from Google Analytics to track your campaigns.
It works through a tag placed by Google on your website's pages which gathers data on all visitors. Alternatively, you can direct the tag to collect data basis specific user actions. Lists can be created by compiling this data, and you can segregate your audience to display personalized ads for their specific requirements.
Email Retargeting
Emails are crucial for your inbound strategy, thereby becoming a highly viable channel for retargeting too. It entails using the customer information that you have acquired to create customized email campaigns. For example, if you have the email address of a visitor who goes to your website and sees a product without purchasing it, you can shoot an email to them with more details of the product, or a voucher for their purchase, or a discount, etc. which will make them go back and purchase it.
Your website visitors and their actions can be tracked either using cookies or tracking pixels in emails. Both these methods offer detailed insights into how your visitors engaged with your website or product, which can enrich your ad retargeting.
Your email retargeting strategy can be executed well with Kylas's email functionalities. It allows you to sync with Gmail or Outlook to send bulk and personalized emails to different audience segments. The emails can also be automated to ensure that they reach customers at the right touchpoints.
---
Tackling the Challenges of Ad Retargeting
Ad retargeting can become a valuable asset for you if it's used well. However, there are also some tricky aspects to it. If these are not tackled properly, they can undermine the effectiveness of your strategy. We have already talked about how generic content can prevent your ads from capturing audience interest. Along with curating your ads to have engaging and value-adding content, here are some aspects you must focus on: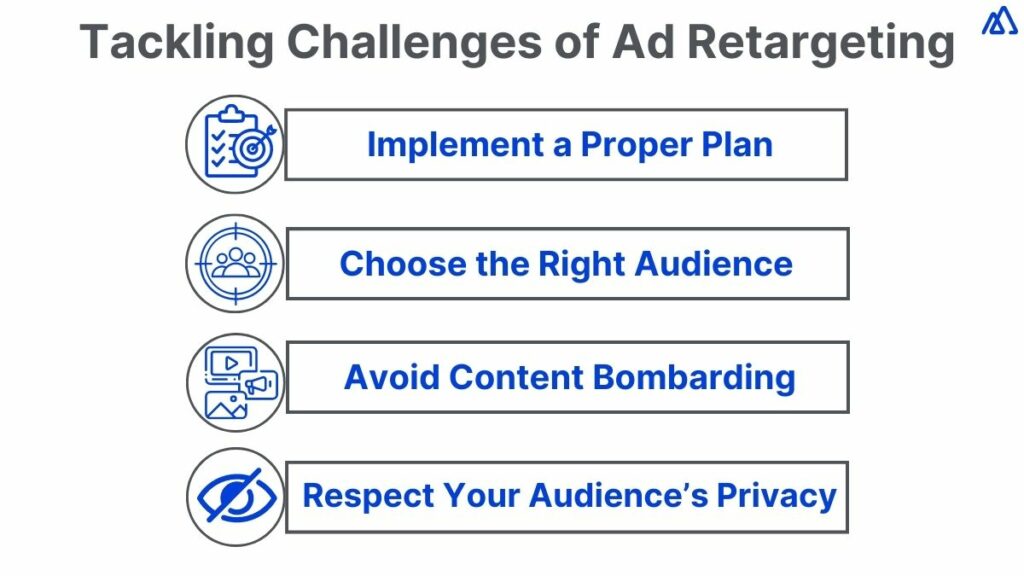 1. Implement a Proper Plan
A haphazard approach will not get you anywhere with ad retargeting. Furthermore, it will create large dents in your advertising budget without providing results that justify these costs.
The primary step in your planning should be to identify the goal of your retargeting. It may be building brand awareness, promoting a new product, clearing inventory, or even building customer loyalty. Ensure that your campaign aligns with your chosen goal to maximize your chances of achieving it.
2. Choose the Right Audience
A common mistake that most businesses fall prey to is assuming that every website visitor is a potential customer. Your audience pool for ad retargeting should be large, but it cannot include just about everyone who has ever landed on your website. If a visitor opens your site but exits in a few seconds, you need to make the tough choice of eliminating him as a prospect.
Hence, do not chase every visitor with your ads. Analyze your data carefully and target only those people who have actual potential to convert. Be sure to segregate your audience and display only those ads which are relevant to each segment.
3. Avoid Content Bombarding
When it comes to ad retargeting, less is more. 35% of customers have used the word 'creepy' for such ads and overdoing it will only make matters worse for you. You want customers to remember your brand, but for the right reasons. You don't want to be remembered as an intrusive and stalker-like advertiser.
Set a limit on the number of ads you will display per day and per user. Leverage your data while making this decision and be sure to regularly track your metrics. This will tell you if your strategy is working and will allow you to make informed decisions to modify it.
4. Respect Your Audience's Privacy
Retargeting entails watching every move made by your audience and following them around in the digital space. This is bound to raise concerns for your visitors about privacy being violated.
Be mindful of their concerns and position yourself as a brand that they can trust. Obtain explicit consent for collecting and using their data. You can also include material on your website to give visitors full information on the steps you have taken to protect their privacy. This will go a long way towards establishing strong customer relations.
---
Ending Note
You're now fully equipped to get started with ad retargeting! You know what to do, and what not to do. With careful planning and choosing the right content and platform, you can power up your revenue engine and secure a large number of closures.
Start 15-day Free Trial