Your sales presentation can make or break a deal.
No, that is not an exaggeration. While it is true that a customer's final decision depends on many other aspects of the product, one cannot deny that an effective sales presentation significantly influence their decision. If done right and at the right moment, your sales presentation can accelerate the buyer's decision.
Making a solid sales presentation requires storytelling skills, a robust structure, and some planning. Your presentation has to provide a unique perspective on the product that the customer wouldn't have normally thought of.
Let's find out what a good sales presentation should look like. From the structure to the key elements every sales presentation needs, we'll cover everything you need to know.
---
What Are the Principles of An Effective Sales Presentation?
It is important to understand that a sales presentation is much more than a sales pitch. A sales pitch is an attempt to persuade a buyer to consider your product. It is something that your sales team does every day, in every preliminary interaction with a prospect.
Sales pitches are relatively easy because they are mostly one-to-one, over a call or an email. You only need to convince that one person and when that's done you successfully close the deal. In a sales presentation though, you have to face more than one decision-maker.
In a nutshell, technically a sales presentation is similar to a sales pitch but far more elaborate and complex.
Sales presentations are driven by certain principles; they are –
1. Personalization
A sales presentation cannot be generic. If you wish to connect with your audience and sell them the idea, you have to personalize your presentation to fit their use case.
To do this effectively, learn about the buyer's primary pain points and focus your presentation on these issues. The buyer needs to feel understood to have trust in your pitch.
For example when we pitch Kylas to our potential buyers, instead of focusing on our features we rather convey how the tool will benefit their business and fit their use case. This helps user understand in what ways the product/service can help them.
2. Simple and To-The-Point
Time is valuable. Both yours and your audience's. So your sales presentation has to cut straight to the point. Of course, you would need to give them a brief introduction and context. But don't beat around the bush or bore your audience with too many industry statistics, jargons or your company history. Grab their attention in as little time as you can.
3. Focus On the Problem
The sales presentation needs to focus on the problem and not skip to the solution. Through the sales presentation, you need to help the buyer understand their problem even better. When the buyer sees that you know the problem better than they do, they assume that you probably have the best solution too.
4. Differentiators Are Best Left for the End
A common tendency of sales leaders is to highlight the differentiators from the very start of the sales presentation. This only comes across as desperate and pushing to make a sale. Differentiators should not lead your sales presentations. Your buyer should themselves see how you are different from your competitors.
Once the buyer gains an insight into the key problems they face, they can be led to the differentiators. At this point, feel free to show them how your product can address the problem that your competitors can't.
5. Connect With the Decision-Makers
If you talk like a sales rep, you will automatically be directed to interact with an equivalent position in the buyer's company. If you really want to make an impression on the decision-makers, you have to talk in a language that executives would relate to.
Product specs and features are best left to the end-users or IT teams. Decision-makers need to hear how the product will impact the business as a whole.
6. Conversational
Don't make the sales presentation sound like a sales pitch. Presentations need to be more conversational and flow more naturally. Encourage questions and engage in a two-way conversation to ensure that the buyer is equally invested in the presentation.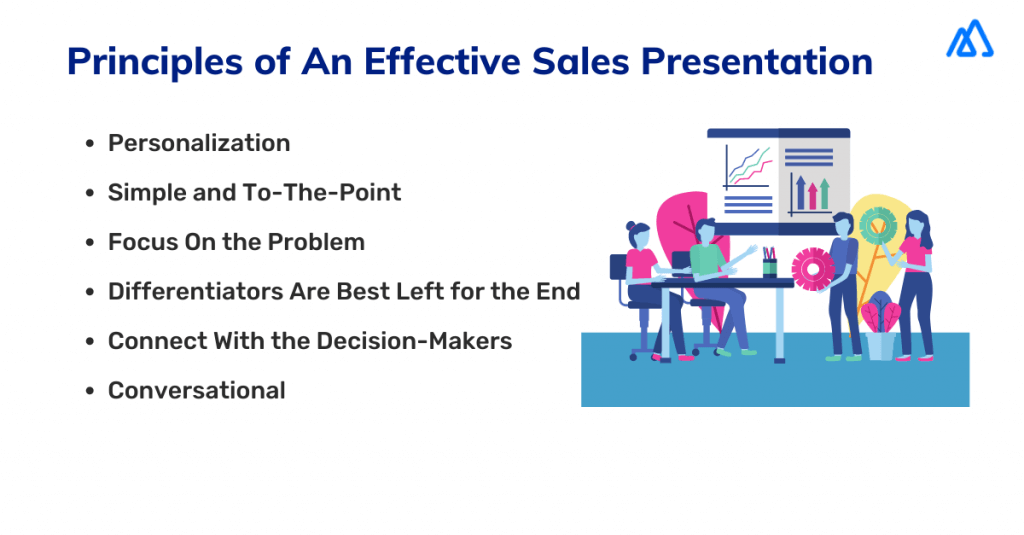 ---
How To Build A Sales Presentation?
Now that you know the underlying principles of a good sales presentation, you need to know how to build one. Every sales presentation needs to have a structure to it. How you open the presentation, what you talk about in the body of the presentation, and how you close it are crucial.
So what goes into creating a killer sales deck? Let's look at the structure of a perfect sales presentation step-by-step.
1. Here Is How You Should Begin Your Sales Presentation
You always start with a brief introduction of yourself and your company. Once the pleasantries are out of the way, go on to the important part.
Highlight the Problem
Every sales presentation needs to have a problem statement. It is the problem that you aim to solve with your product. So without much ado, get to explaining the problem you want to address. It could be a change in the industry that needs organizations to catch up or a specific problem at the buyer's end that you have identified and can help solve.
The customer may not be aware that they have a pain point that needs to be addressed. It is your job to make them see where they are lacking. Also, show them what they could achieve if these issues are taken care of.
Use numbers and figures to quantify the problem. It helps drive home the point better. Say things like, "you are losing X amount in revenue each year" or "Y number of your customers are slipping through the cracks because of this".
This helps them understand the scale of the problem. It also creates a sense of urgency as the buyer surely doesn't want more damage done. Tell the buyer how much more they could lose if they didn't apply a solution right away.
2. Body of Sales Presentation
Now that the buyer is aware they have a problem, it is time to offer a solution.
2.1 Present the Solution
At this stage, you need to talk about the product you are offering and how it can help them. Your product could cater to many different users. So you should be careful that the positives you highlight are meaningful and relevant to the current buyer in question. Discuss more on how it helps them solve their specific problem instead of discussing common features.
But words alone can't do a good enough job of convincing your buyer. You need to back it up with data.
2.2 How to Present Sales Data and Performance?
Presenting sales data and performance reports at a sales presentation is a tricky job. You don't want your audience dozing off at the sight of all those numbers and figures. But you definitely want them to see what you have achieved so far.
The golden path here is to only show what is relevant and rely on visual representations. Create charts, graphs, and infographics to support your presentation. Present the results of case studies that show what your customers have gained from using your product.
Use data from customers who have a similar profile as the current buyer. This helps the buyer relate better and see your solution as truly useful.
For instance, if you are pitching to a startup, you cannot show them what an MNC has gained using your product. The scale and priorities of the two businesses are very different. So, the buyer may not see this as an ideal solution for themselves.
Use social proof wherever it fits. Share a few customer testimonials or reviews. Again the customer reviews you are sharing should be from companies in the same space as the buyer.
Keep your data engaging, meaningful, and limited.
2.3 What Makes a Good Sales Presentation?
A good sales presentation should be short but impactful. Many thought leaders in the industry suggest that your sales presentation should not be longer than 10 minutes. Within these 10 minutes, you have to cover everything that the buyer can find useful in making a purchase decision.
Maintain consistency throughout your presentation. Everything from the images you use to the brand colours and logos should be coherent. Make sure you have researched the buyer well enough. Wherever you need to use their brand assets, ensure that you are using the right ones.
3. How to End a Sales Presentation
After you have said all that needed to be said, it is time to close your presentation. You can add a final slide highlighting the next steps. This should be more like a call to action. If the buyer decides to move forward with the purchase, what do they need to do? Finally, leave the floor open for questions from the audience.
Let the buyer come up with their queries and concerns. The answers that you provide at this stage are going to be very crucial to the deal.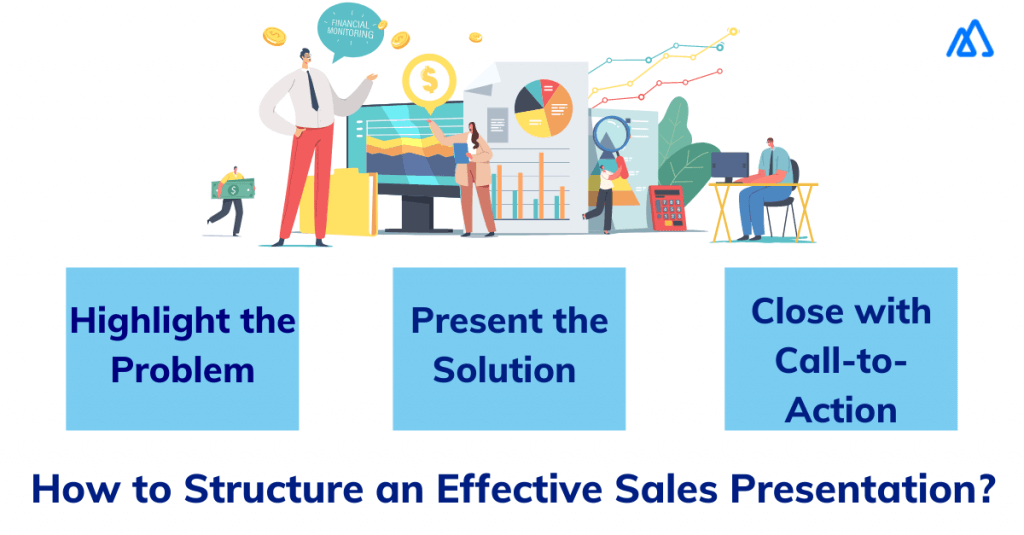 ---
How To Deliver a Sales Presentation
Building a good sales presentation is only the first part of this complex job. How you deliver the presentation plays an even more crucial role in this. Presentation skills are going to matter a lot in how you influence the buyer.
Here are a few quick tips for the presenter.
1. Be Confident Inside and Outside
The first thing your audience is going to notice is how confident you are about the whole situation. Your confidence has to reflect in your speech and your body language. If you can deliver the presentation even without the slides, it shows that you know what you are talking about. Avoid looking at the slides every second.
Stand/ sit straight and be careful about the hand gestures you make. Keep them minimal if you are not sure what to do. Try to look optimistic and in control of the situation.
2. Modulate your Tone
The last thing anyone wants from a sales presentation is a boring, monotonous voice just reading out the slides. A lot of your charisma exudes from the way you talk. So use your voice well. Modulate where necessary. Know which points to stress on and where to use a lighter tone. This also helps direct the attention of the audience to the right points.
3. Look Involved
If you want your audience to be invested in the presentation, you have to look involved yourself. For instance, if your audience consists of C-suite executives and you are selling a software solution, you need to be dressed for the occasion.
If you are presenting to an audience of young, energetic entrepreneurs running a startup, you will need to exude the same kind of energy.
When you look involved, your audience automatically trusts you.
4. Do Not Assume That the Audience Cares About Your Product
The audience does not care about the product you are selling. They only care about the problem they face. So don't assume that they would be familiar with your product. You need to ensure that everyone is on board when you start your presentation. Look for their reactions during the presentation and see if they are following.
Change your pace accordingly and let them ask questions mid-way if they need to.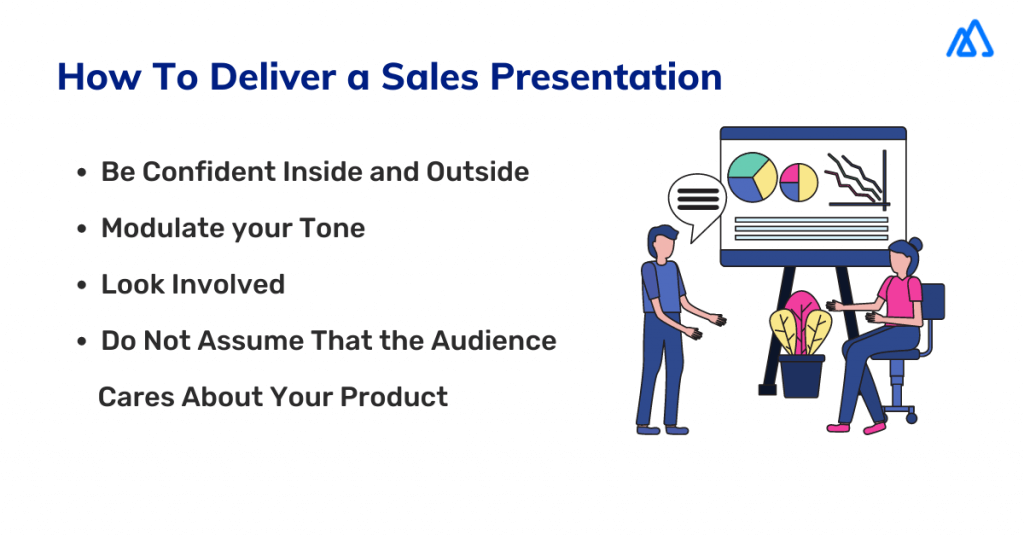 ---
Great Sales Presentation Ideas
There are some common sales presentation examples that you can learn from. These templates can help you build on and create a solid sales pitch.
1. The Product Demo
One way of going about your sales presentation is by giving a demo of the product you are selling. In this case, you don't even need those slides. You can give your prospects a taste of what your product offers first-hand. If this is a feasible option, then you should definitely go for it.
It can be far more engaging than a slideshow. But it may also be a little time-consuming, so you will need to plan well.
2. The Data-Backed Sales Presentation
Another very convincing template is the data-driven presentation that offers proof that your solution works. The idea here is not to stuff the presentation with numbers but to show your buyers what you can provide in an engaging way. Create infographics, videos, graphs, and handouts that will keep your audience engaged and informed.
3. The Minimalistic but Confident Sales Presentation
If you are confident about the product you are selling, you don't need much, really. You can even present without a slide deck or a demo. Just prepare your pitch well, invite questions from the audience, and offer convincing answers. If you are doing it right, it should be enough to take them further down the sales funnel. This kind of confidence only comes from experience though, so tread very carefully.
---
What to Do After a Sales Presentation?
The job does not end with delivering a good sales presentation. You have work even after the presentation is over. Your audience will likely have some questions they want to ask. Also, they won't be making a purchase decision immediately after your presentation.
1. Accept Questions
Always encourage your audience to get back to you with more questions if they need to, even after you have left their office. This keeps the door open for communication. It also helps build a stronger relationship with the prospect.
2. Follow Up
If the prospect does not get back, you have to follow up yourself. Give them some time to ponder, and then send a follow-up email or make a call. Ask them if they need any further assistance to help finalize their decision.
---
Conclusion
Though you may think that a sales presentation is just another sales pitch, it is so much more. The power of your sales presentation can only be unleashed if you know how to do it right. The sales presentation gives you the opportunity to share your customers' stories, highlight your achievements and demonstrate what value you can offer to a prospect.
Letting go of an opportunity like this would be a mistake. So invest some time and effort into making a winning sales presentation and using sales CRM software for your growing business.
Boost your sales productivity and nail your sales target with customizable sales CRM software.
If you want your business to scale new heights, Kylas is the answer for you. Kylas Sales CRM tool can help you streamline your sales by providing you with Custom Sales Insights and more. Contact us today to know more!
Start 15-day Free Trial