After facing significant disruptions, B2B businesses have started growing again steadily. But shifting customer preferences are forcing them to innovate again as many widely held assumptions about B2B sales are being busted daily. The average buyer now uses more than ten channels throughout their buying cycle. Further B2B organizations with the highest growth rates are reaching out to prospects much earlier in the buying cycle.
Customer loyalty has gone for a toss as they were willing to switch in search of an omnichannel experience. So, how can businesses optimize their B2B sales funnel to take advantage of this trend? And how does the B2B sales funnel differ from B2C? We will explain all this and more in the following article.
Are you already aware of the B2B Sales Funnel and want to optimize it to drive your business growth? Find out how a Sales CRM, like Kylas, can fuel your dreams.
---
What is a B2B Sales Funnel?

A B2B sales funnel is a marketing term and is nothing but the journey a typical B2B customer goes through to purchase a product or service. An effective funnel is judged on its ability to convert prospects into paying customers and increase business RoI. If your sales funnel fails to meet these criteria, you must either change your funnel or optimize the individual stages further to see results.
The concept of a sales funnel is commonly attributed to E. St. Elmo Lewis. In an advertising publication of 1898, he highlighted at least three principles to gain customers: attract attention, awaken interest, and create conviction.
Over the years, this evolved into the AIDA model, which divides a sales funnel into four steps:
Attention – Make your consumer aware of your product through advertising.
Interest – Generate interest by teaching consumers how your brand is the right fit for them.
Desire – Allow the consumer to develop a favorable opinion of your brand.
Action – Enable the consumer to make a purchase.
However, the AIDA model is much better suited to the B2C buying journey than B2B. And while it is widely used in B2C, it has faced several criticisms.
The chief among them is that it ignores the post-buying journey and aspects such as consumption, satisfaction, repeat purchase, and referrals. Thus, several other variants of this model have emerged over the years. But before we get to them, let's understand the fundamental differences between a B2B and B2C buying cycle.
---
What's the Difference Between a B2B and a B2C Sales Funnel?
A B2B sales funnel is considerably longer and more complex than a B2C funnel. While a B2C funnel can be as short as a single day, a B2B funnel can take half a year or longer.
Also, while customer retention is essential for both types of businesses, B2B businesses place a much higher weight on the consumers' post-purchase behavior.
There are four chief reasons for this:
The ticket size of a B2B product/service can be much larger than that of a B2C product, and customers take more time to decide.
While 1-2 people make a B2C decision in a family, the B2B purchase depends on multiple stakeholders' approval across hierarchies. This, again, takes time.
A B2C sales funnel is linear, where the customers move from one stage to the next over time. On the other hand, a B2B funnel is not linear, and customers move up and down the funnel over time. For B2B organizations, creating an efficient sales funnel can be the key to closing more deals.
New customer acquisition costs have increased by 50% over the last few years, and increasing customer retention by just 5% can increase profits by 25% to 95%. Given the large ticket size per purchase, it's much more critical for B2B companies to retain customers.
---
What are the advantages of a Sales Funnel for B2B organizations?
As discussed earlier, the most crucial advantage of a B2B sales funnel is that it vastly improves sales and RoI. But here are some of the other benefits that can help you grow your business:
1. Simplified Buying Journey
More than 77% of B2B buyers rate their buying experience as complex or challenging. This is due to the involvement of 6-10 decision-makers and the ever-expanding list of options and solutions. Your customers buying journey starts when they identify a problem.
They then proceed to explore solutions, build requirements, and shortlist suppliers. Next comes self-validation and consensus creation. Only then can they make a purchase. If you can ease the process for your customer, you can easily make the sale and retain them for longer.
2. Gain Visibility of Your Sales Process
Gaining visibility into your sales process helps you identify and rectify the pain points stopping you from closing more deals. It gives you an idea of which stage of the buying journey your prospects lie in and allows you to prioritize the ones that are about to finalize the purchase. It also gives you insights into how your customers move through the funnel and how much time they spend at the top of the funnel vs. the middle and bottom. It's an efficient way of prospecting and converting your customers.
3. Optimize Customer Experience
Optimizing your customer's experience even after making the sale helps you promote loyalty, retain customers, and improve brand advocacy. You gain a leg-up over your competition and opportunities to cross-sell/up-sell your add-ons or additional services.
4. Automate Your Business Operations
Understanding your pain points and challenges allows you to overcome them by incorporating the right-fit digital tools into your sales process. It also allows you to minimize redundant tasks by creating automation workflows and free your sales team to focus on the most critical tasks – closing deals.
5. Improve Intra-Team Collaboration
The sales and marketing teams must collaborate seamlessly for an effective sales strategy. The marketing teams manage the top-of-the-funnel processes, and the sales team works in the middle of the funnel. The customer support team handles the bottom of the funnel. Creating a sales funnel allows your sales, marketing, and support teams to trust and understand each other. It further fosters communication and collaboration between them. All this helps you optimize your processes.
Your business can gain massive advantages by making small tweaks to your sales funnel, but to do that, you must understand the funnel in-depth. So, what are the stages of a B2B sales funnel? Let's discuss that next.
---
What are the stages of a B2B Sales Funnel?
Every business is unique, and so is its sales funnel. But most funnels are a variation of the AIDA model with a few additional steps. So, what are the standard B2B sales funnel stages?
1. Awareness
A top-of-the-funnel stage, where your potential customers become aware of their pain points and look for a solution that matches their needs. It's here that your prospects can notice your business either organically or through your marketing campaigns such as ABMs, paid advertisements, etc.
Consumers can also discover your business while searching for a related article or content that leads them to your website or blog page. So, it's essential that you create relevant, helpful, and thoughtful content on not just your products but also on related topics that your prospects might have an interest in.
This stage is managed mainly by the marketing team, and the targets for this stage are prospects who might have discovered a need or might not yet be aware of it. Either way, being present on as many channels as possible with helpful content is the key to strengthening your top of the funnel and getting the most leads.
Assets used during this stage:
Digital marketing tools like Google, Facebook, and YouTube
Social Media Channels
Website/Landing pages
Podcasts
Quora/Reddit answers
2. Consideration
The consideration stage is where the customer is aware of their pain points and begins to search for solutions to their problems actively. Here they first become aware of their pain points, look for solutions to these challenges, and then look at specific products that meet these needs.
Their searches will begin with questions like 'how to' and 'why should I' and move to 'how can' and 'what are.'
At this stage, they have identified your product/service as a potential solution but are also evaluating other options. They want to know more about your product, and at this point, you can get them in touch with your sales team.
Creating a relationship with the prospects at this stage helps you speed run through the remaining stages. You must clearly communicate with them to understand their needs, allay any concerns, create trust, and gain credibility.
Assets used in the consideration stage:
Product pages/documentation
Pricing Pages
FAQs
Whitepapers/thought leadership articles
Product reviews/Testimonials
Customer logos
Awards/Badges
Webinars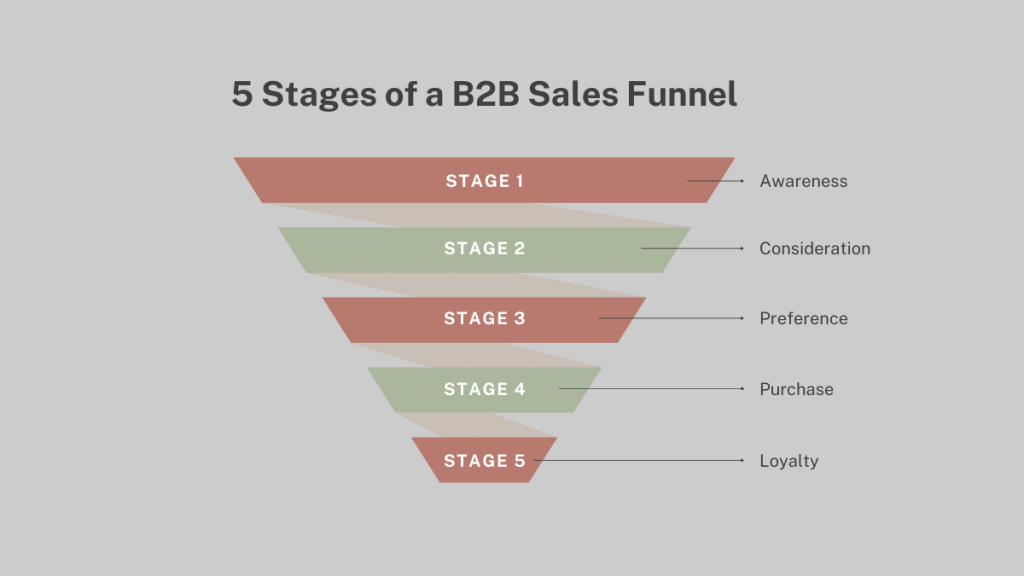 3. Preference
At this stage, the customer is leaning towards your product but is not ready to commit yet. Here all the client stakeholders will come together to make the final decision.
Here, your sales team needs to increase their contact with the client team and guide them to make the right decision – choosing you.
This stage might take some time and test the patience of your sales teams as the multiple stakeholders might have different questions, needs, and wants that they want your product to address. The best way to move to the next stage is to let them experience the product on their own so that they can arrive at a decision.
Assets used in this stage:
Product tour/demo
Educational content
Newsletter
Onboarding
Special discounts
Comparison pages
4. Purchase
This stage is the culmination of months of effort from your sales team, and it's a straightforward process.
However, it's not the time to rest easy. Customers have been known to drop off during the purchase stage, and you must make sure that the payment process is easy and convenient.
Here the time it takes for your website to load can also affect the conversion rates. In fact, websites that load in 1 second have a 3x higher conversion rate than a site that loads in 5 seconds.
Once the prospect makes the purchase, they finally become your clients.
Assets used in this stage:
Contact us page
Cart
Retargeting mail for cart abandonment
Payment page
Thank you, page
Thank you mail
5. Loyalty
As discussed earlier, this is the most critical stage for a B2B organization. Focusing on customer experience can help businesses considerably improve customer retention. It also creates additional business opportunities in the form of up-selling/cross-selling to happy customers.
These happy customers act as brand advocates who not only refer other clients to your business but also improve your reputation with genuine testimonials and online reviews.
This is especially important in an ever-connected and social world, where a peer review holds more weight than any sales document.
Assets used in this stage:
Nurture campaigns
Up-sell/Cross-sell proposals
User Interviews
Feedback Forms
Feature webinars
Customer events
Product updates
Get in touch with us to discover how you can create and manage a B2B sales funnel that meets your business needs. Click here to read about the benefits of using powerful content to strengthen your sales funnel.
---
How to Create a Sales Funnel?
To build a future-proof sales funnel, you must continually analyze and optimize its every stage. Here's how you can do that:
1. Set your KPIs
Before creating a sales funnel, you must outline the goals and objectives for your business. You must also decide which metrics you will track to determine the success of your sales strategy. You may choose to track one or multiple metrics and use different funnels for different products or services. All of this will depend on your individual business needs.
2. Create Buyer Personas
To create an ideal buyer persona, you must first understand the typical journey of your customer by creating a customer journey map. Once you have created this, you'll be easily able to understand your target audience and build a detailed buyer persona.
3. Choose the Best-Fit Channels
Once you have figured out your buyer persona, you can then start looking for channels where they are present. This depends greatly on the buyer demographic, and here's how you can choose the right channel for your target audience.
4.Create Assets for Each Stage
Once you have your KPIs, personas, and channels figured out, you can proceed to create high-quality content for each stage of the B2B funnel. You can use the asset list mentioned above to create the content but make sure that every piece you create is relevant to the buyer's journey and has insights they won't be able to find anywhere else.
5. Monitor Your Progress
Consistently monitor the progress of your sales funnel by tracking the KPIs you've set for yourself. Make sure you tweak the funnel regularly to see a performance improvement. At the end of the day, you know your business and processes and need to do the work. A sales funnel can only help you in your journey.
---
Future-proofing Your Business
A growing B2B organization needs all the help it can get, and a Sales Funnel is a step in that direction. Using a sales funnel can allow businesses to continually make small improvements to their sales strategy and hold their own in a highly competitive market.
Digitizing your sales funnel can help you continually monitor and improve it. Using digital tools, such as CRM or a customer relationship management tool, can help you qualify leads, convert them into deals, and close more sales. It also allows you to improve customer experiences and optimize sales operations.
A CRM can help the marketing, sales, and support teams collaborate effectively, thus managing all the stages of a B2B Sales Funnel. Click here to learn more about how a sales CRM like Kylas can optimize your sales processes.
Start 15-day Free Trial