Providing world-class customer support is the main goal of a call center. If you want to enhance or even maintain your customer satisfaction levels, providing good customer support is a must. Call centers use call center software and call center CRM to deliver excellent services to customers.
However, do you know the difference between call center software and call center CRM?
Let's begin by understanding what both of them are.
---
---
What Is Call Center Software?
Call center software helps businesses manage customer communication over multiple communication channels, such as phone, email, text, instant messaging, live chat, and social media. It is possible to use it as part of help desk software with a ticketing feature so that agents can respond to customers and resolve their queries and issues.
Call center software may include many features, such as call center monitors, auto-dialers, call analytics, IVR, predictive dialer, and more.
Looking for a CRM to supercharge your sales engine and streamline sales efforts? Try Kylas, an easy-to-use CRM, uniquely designed for growing businesses. Schedule a demo today!
---
What Are The Benefits Of Call Center Software?
Some of the key benefits of call center software include: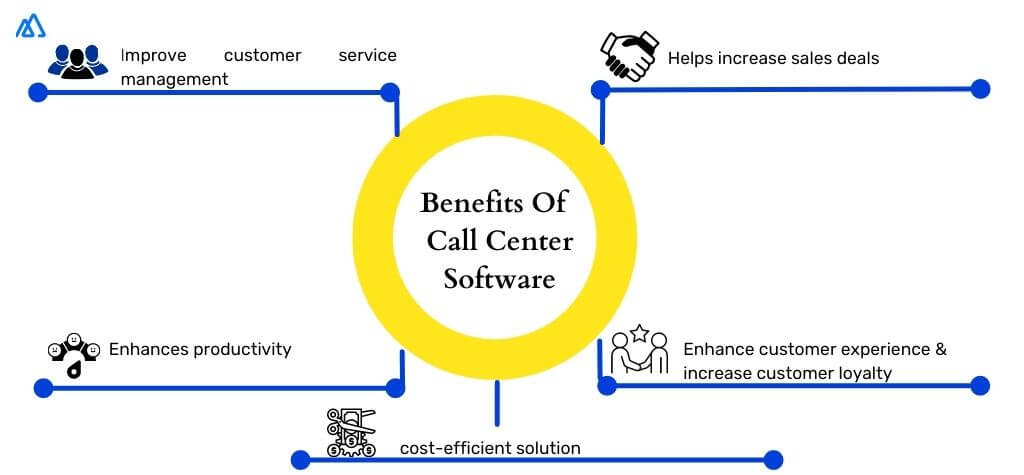 – It helps improve customer service management, ensuring that all customer queries are responded to in a timely manner.
– It enhances productivity by managing every query, every ticket, every appointment, every sale, and every technical issue seamlessly.
– It is a cost-efficient solution because instead of getting many agents to deal with calls, this software can distribute calls efficiently. A call center software ensures that calls are distributed efficiently and all agents remain productive.
– Since it responds to almost all inbound sales queries, you do not lose an opportunity to close a sale. It can, therefore, help increase sales deals.
– Call center software can identify call urgency. Prioritizing calls helps to enhance customer experience and increase customer loyalty.
---
What is Call Center CRM?
Call center CRM provides call center employees access to client history and account information instantly. It allows them to help customers with relevant and up-to-date information. Call center CRM also helps deliver a personalized customer experience across multiple channels, such as voice, web, and social media.
A call center CRM uses a single platform to connect all your customer service reps or sales reps. It also automates the routing of calls, emails, texts, etc., and helps with ticket labelling and processes incoming calls.
Most businesses collect customer phone numbers as part of their sales process. When a customer calls using one of those numbers, it pulls up the record associated with that number. Therefore, your customer service agent or sales agent gets to know who is calling and can also review their complete account information and history.
If there is a dedicated account manager or sales rep, the software will also route the call to them, giving the customer a streamlined experience.
---
Ten Features That Your Call Center CRM Should Have
The call center CRM helps you know what a lead wants even before you have picked up the call. If you want to invest in a good one, here are ten features that you must look for.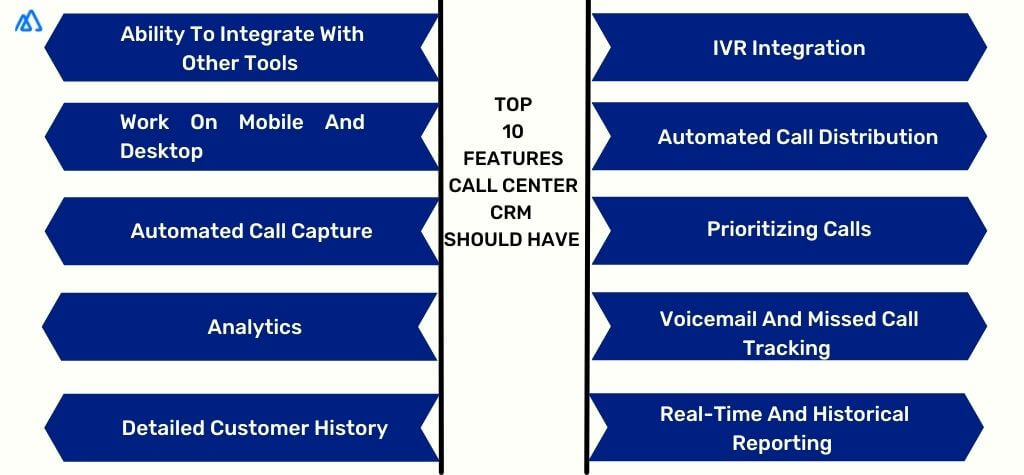 1. Ability To Integrate With Other Tools
Businesses like call centers use a lot of tools for their daily operations. Besides a call center software for processing incoming calls, they may also use chat tools, tools for running Google or Facebook ads, and other customer support tools. A call center CRM should be able to seamlessly integrate with all such tools for optimum performance.
2. Work On Mobile And Desktop
The tele-calling team or customer service reps work out of an office for most businesses. However, some offices may also have remote workers, or they may operate in a hybrid environment.
As such, a call center CRM should be capable of working on both desktops as well as mobile. It is also important for both the desktop and mobile versions to be in sync, allowing call center employees to remain up-to-date on all customers.
3. Automated Call Capture
Your call center CRM should have an automated call capture feature so that you do not need to manually enter any incoming calls. This feature also ensures that no calls are missed and rules out the possibility that an agent may forget to log an incoming call that they received in the day.
4. Analytics
The analytics feature is an important part of the call center CRM, especially for measuring team performance. Say a manager wants to check the performance of the sales team. The manager should be able to see how many calls each sales rep makes a day and how many of them have resulted in a sale.
Being able to analyze your team's performance can help you map results accurately and weed out poor performers.
5. Detailed Customer History
Knowing your customer's history can help deliver a more personalized experience. That's why your CRM should be able to show a detailed and accurate customer history to allow your employees to understand what the customer wants.
6. IVR Integration
A large number of calls at a call center are routine inquiries. Answering each of these inquiries could cost a lot of manpower and resources. Using an IVR can answer a lot of these inquiries, saving both time and money.
7. Automated Call Distribution
A good call center CRM automatically distributes calls among employees to ensure that no calls are missed. They may assign through the round-robin system or any other system that the business deems right. Your CRM should be able to check if the employees are online before assigning the calls to them.
If the customer has specific needs, it should be able to assign them to the right customer service agent. For instance, if the customer has a query about car loans, the call should go to the agent handling car loans.
8. Prioritizing Calls
Call centers receive hundreds of calls a day. If the call center has to be profitable, you should be able to prioritize these calls, and your CRM can do just that. For example, there are two leads. One visits a product page on the website and then does nothing.
The second lead visits the pricing page and submits a form. The second lead seems more interested and hence should be the top priority.
9. Voicemail And Missed Call Tracking
Even the most efficient call centers may have voicemails and missed calls. If your CRM is capable of tracking these, you do not lose out on the opportunity of closing a sale or providing exceptional customer service.
10. Real-Time And Historical Reporting
Your call center CRM should be able to pull out historical data as well as real-time data, such as call time, average wait time, and so on. It should also be capable of providing historical data such as the number of calls made by an agent, the number of tickets resolved, and more.
It will give the management insight into team performance and ongoing trends, helping them develop effective growth strategies for the future.
---
Benefits Of Implementing A Call Center CRM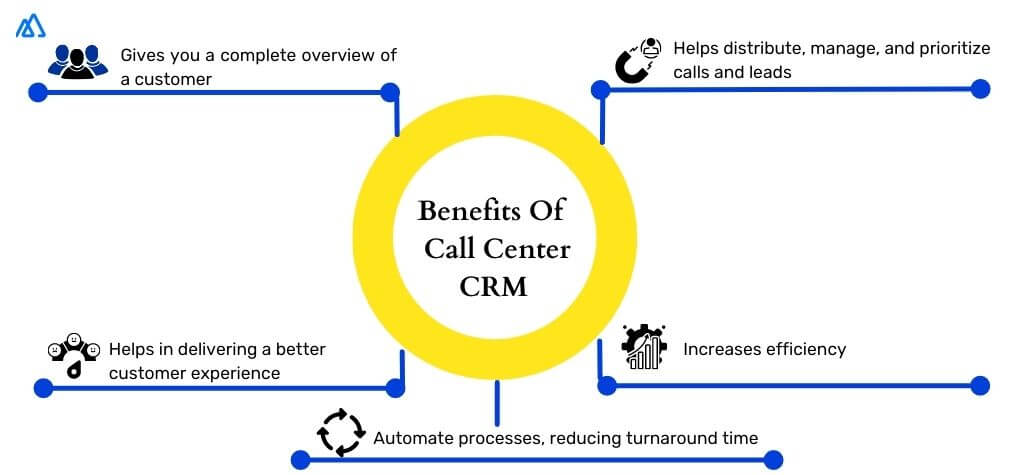 A call center CRM offers many benefits, such as:
– It gives you a complete overview of a customer. You have complete information about all the interactions the customer has with your business, allowing you to deliver a personalized experience and relevant solutions to their issues.
– It helps distribute, manage, and prioritize calls and leads.
– It helps to automate various processes, reducing the turnaround time needed to call a customer back.
– It increases efficiency by reducing the need for manual work.
– It helps in delivering a better customer experience.
---
Best Call Center CRM Software
The best call center CRMs are:
– Freshsales
– Pipedrive
– Nextiva
– Zoho CRM
– Five9
– Kylas
---
What Is the Difference Between Call Center Software and Call Center CRM?
Many people confuse call center software with call center CRM. Here are eight differences between the two.
1. Purpose
Call center software helps process and manage client communications on multiple channels. There are separate queues for calls, chats, and emails so that you reach the right department. Its primary objective is to ensure that all calls get answered promptly, leading to less chaos and a better customer experience.
Call center CRM is the ultimate source of all client information and helps track all customer interactions with the business. They can gather a lot of information, such as phone numbers, email addresses, marketing engagements, purchases, refunds, and more. Every time a client calls in, texts, or writes, your employees can update the CRM, ensuring that all information is accurate and up-to-date.
2. Use Cases
Call center software can be used by inbound sales agents for sales, orders, billing issues, and so on. Technical support teams can use them to track ticket resolution and enable self-service options. Sales reps can use the outbound call center software feature that includes lead management, contact lists, and progressive dialers to close more sales.
Call center CRM can be used by businesses to store detailed profiles of customers, prospects, and leads. Sales reps can update the CRM as and when clients make a purchase. It can be used by customer service agents to record service requests, tickets, and complaints. It can also be used by online stores to track online customer activity.
3. Features
Call center software and call center CRM have a host of different features. The key features of a call center software include Computer Telephony Integration (CTI), Analytics and Reporting, Call Recording, and Call Queue.
The key features of a call center CRM include Lead Management, Analytics and Reporting, Interaction tracking, Workflow Automation, and so on.
4. Front-End And Back-End
Call center software is a front-end solution because it impacts direct communication. It can be used to receive inbound and outbound calls and change the way you interact with customers.
Call center CRM is a back-end solution because it is an exhaustive database of all your customer interactions. The CRM logs every interaction that a customer has with your business, every purchase they make, and so on.
However, a CRM is only efficient as long as it collects the right data. That's why it should be integrated directly with the channels that you use for sales or customer support.
5. On-Premise vs. Cloud
A couple of decades ago, CRM tools were still on-site. However, cloud call center CRM is more prevalent now. It ensures that customer data is available and accessible across all offices around the country.
On the other hand, call center software needs to use on-premise PBX (Private Branch Exchange). A PBX ensures calls are transferred and distributed seamlessly. However, cloud-based PBX solutions are also available for businesses.
6. Core Users
Call center CRM is used by small and medium businesses with a long sales process. It is also used by businesses that rely on leads, such as real estate agents and insurance agents. E-commerce stores and enterprises that want to improve customer experience also use it.
Call center software is used by all inbound, outbound, and blended call centers. They are also used by many small and medium businesses. E-commerce businesses with a virtual call center and businesses that want to integrate communications from multiple channels also use call center CRM.
7. Costs
Companies with less than 50 employees use about 16 SaaS applications. On the other hand, companies that have 50 to 100 employees use about 24 SaaS applications. The more applications you use, the more expensive your call center software and call center CRM may get.
Call center software costs can be between $50 to $1500 per agent per month. Call center CRM can cost between $15 and $150 per month.
8. Metrics
Call center CRM metrics focus on customers, revenue, and sales. The metrics include conversion rate, retention rate, repurchase rate, sales cycle length, and so on.
Call center software metrics are about the service your employees are providing to the customers. The metrics include average wait time, Customer Satisfaction Score, first call resolution rate, number of answered calls, etc.
---
Conclusion
If you run a call center, you should use both these tools to deliver exceptional customer service. However, there are CRM software available in the market that offer both capabilities and are worth considering.
If you are looking for a CRM to improve sales and customer service, then Kylas is your best bet. Kylas is an enterprise-grade CRM designed uniquely for small businesses.
It is easy to use and offers UNLIMITED USERS and FEATURES. If that's something you are looking for then, why wait!? Schedule a Demo Today!
Schedule DEMO