CRM is an all-in-one solution that takes care of your sales process, right from capturing leads to managing post-sales services. It is no wonder, then, that it has become the lifeline for most organizations!
CRM came into the close grip of many small businesses when their free versions started emerging in the market. CRM brands rushed in to advertise these free versions. Imagine these ads reaching a small business owner who is happy to take up the offer and start using his complementary CRM.
He is soon told that some amounts will be needed for add-on features, installation, and upgradation, and the list goes on. What remains 'free' about the CRM tool, then? Are all CRMs that are advertised as free actually full of hidden costs and charges?
Kylas Sales CRM helps you streamline your sales process at an affordable price. It is built and priced for collaboration- you get unlimited users and features at a flat cost. Click here to try Kylas free for 15 days!
---
Is CRM Only Available for Large Businesses?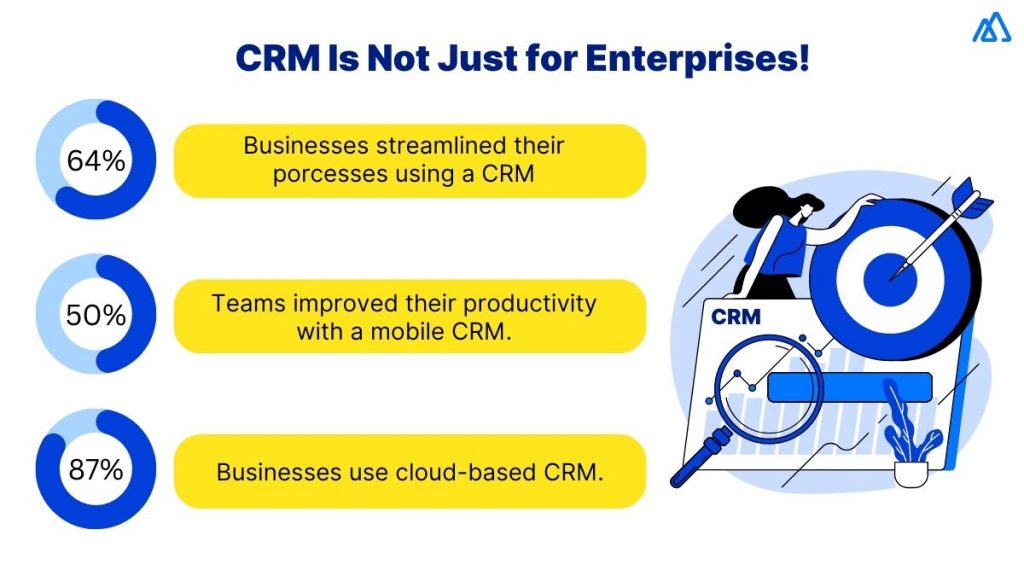 64% of companies, from large conglomerates to small and midsize ones, believe that CRM can positively impact their business. But not every business has access to this comprehensive and feature-rich sales tool.
Like all of the good things in life, CRM too comes at a price. Statistics show that an average company spends 12% of its marketing budget on CRMs. This amount can seem negligible for companies with mounds of money set aside. However, not all companies have a massive budget for technology, especially those in their initial stages of growth.
The irony is that growing businesses are the ones that can benefit the most from a robust CRM tool. However, they fail to make strides towards adopting it after considering the cost of buying and installing a CRM platform, not to mention the cost of training their employees on how to operate it.
---
Free CRM- Too Good to Be True?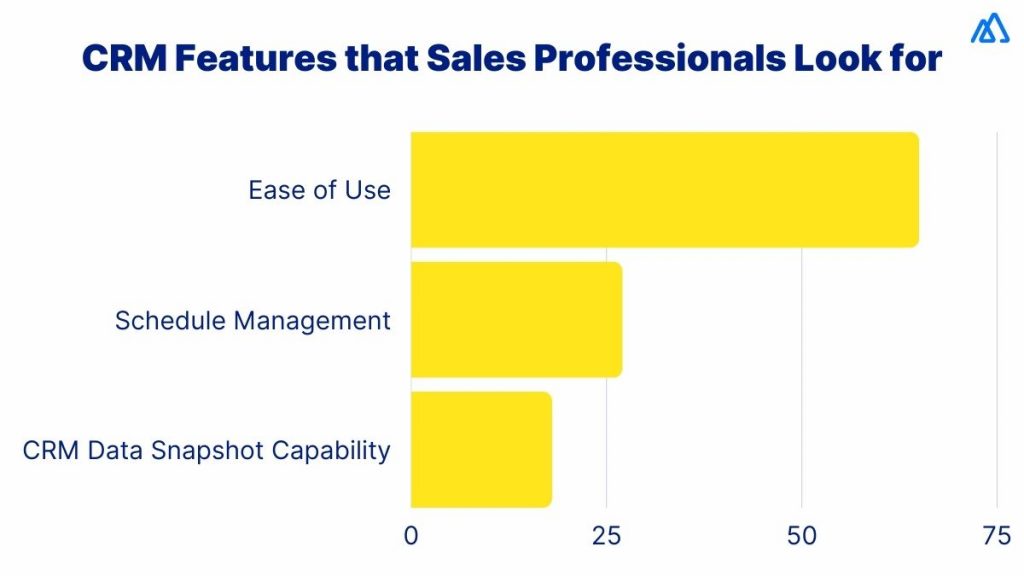 All human beings feel the utmost joy upon receiving anything free. Whenever we hear the word 'free' associated with anything, we automatically think we are getting an excellent bargain with zero risk factors. However, is that really the case with free CRMs?
Several leading CRM players offer free versions of their tool, for which businesses do not need to shell out money. The offering of free CRM is a mutually beneficial arrangement since:
CRM companies can expand their customer base.
Loyalty is created in the minds of customers towards the brand that is offering them a free service.
The ambit of the term 'Free CRM' is a very large one, that includes two distinct types of offerings by CRM brands. The first category, however, can be termed as just the 'on-paper free' version. The word 'free' is used in connection with such tools mainly as a marketing gimmick, because a user will end up paying large sums of money to receive even the basic features from such CRM tools.
If you are promised a 'free' meal but must pay extra for all food items, you would be better off taking a regular, paid meal instead! This is exactly what happens to the unknowing business owners who opt for this type of free CRMs.
In contrast, the second category can be considered as an effective yet free tool for your business. This category offered by certain CRM brands is a 'lite' version of their tool, one that gives its users a sneak peak of the actual vast feature set available in the paid version.
---
How Effective Are These 'Lite' Versions?
To make this 'lite' and free version of their CRM as useful as possible for consumers, CRM brands offer some essential features in them, such as:
However, there is naturally a limitation that accompanies anything free. At the end of the day, these brands also must manage their own revenue and profits, and they cannot give away everything after receiving anything.
Furthermore, if brands offer every feature in their arsenal for free, they will never be able to convince users to switch to their paid models, and the inflow of revenue will drastically reduce. So, while they do give the CRM free of cost, they reserve their feature set to be able to leverage it towards their paying customers.
---
The Confusion for Small Businesses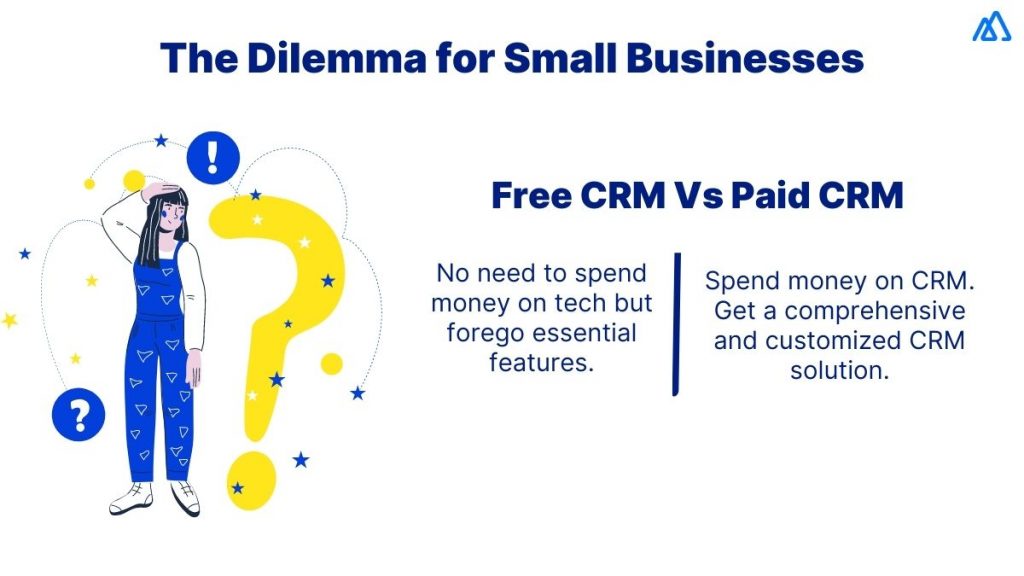 Now that we have this important bit of information about the shortcomings of free CRM, let us try to understand the confusion that small businesses will face. One option for them is to completely forego the features that they cannot get for free. However, their operations suffer in the bargain.
The second option is to compulsorily set aside a large budget for CRM, which will give them the features, but also take away large chunks of their profit/revenue. These options are like choosing between the devil and the deep blue sea.
But what if there was a third option, one that kept out the negatives associated with the above two but combined their best aspects? That option exists in the form of affordable CRM tools. CRMs like Kylas, which are specifically suited for small and growing businesses, have highly affordable pricing plans.
---
Affordable CRMs- The Better Fit for Small Businesses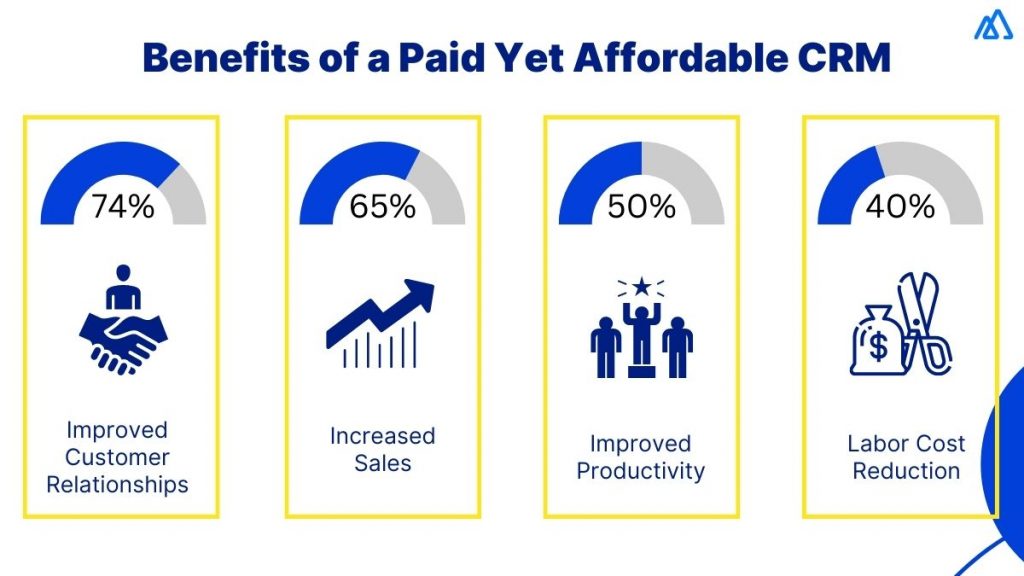 Affordable CRMs offer you a wider range of features as compared to free CRM, that can help in scaling your business efforts. They are not just the solution to the confusion of small businesses, but they also resolve the dilemma faced by CRM brands. On the one hand, these brands must appeal to the consumers by offering free versions.
But on the other hand, they must ensure that their paid versions are also being subscribed to and their earnings are staying constant. Through affordable versions, CRM companies have been able to strike a balance between both these contrasting requirements.
If you opt for brands like Kylas which do not charge per user, you can have unlimited team members using the CRM for INR 12,999/month.
For the immense number of benefits that these paid versions offer, these prices are not high enough to become a burden on small businesses. Besides, investing in CRM will enable your teams to work with more efficiency and productivity due to features such as:
Automated Lead Distribution
Management of Lead & Deal pipelines
If all these factors are added up, affordable CRMs become a very lucrative option for small businesses, often yielding more sustainable and long-term benefits as compared to free versions.
Conclusion
Even though you must pay some money to acquire the CRM, affordable tools still offer a better return on your investment as compared to free versions. They have been shown to increase sales by up to 65%, reduce labor costs by 40%, and also optimize other aspects of your business.
Whether you wish to invest in an affordable CRM or try your luck to scale with free CRM, Kylas has something to offer you. The design of the tool specifically keeps in mind the interests of growing businesses. The pricing plans include both versions, and it is the perfect fit for all CRM requirements.
Start 15-day Free Trial