Modern customers don't just want good quality products but also wish for personalized customer experiences that satisfy their specific needs. This constantly puts pressure on businesses of every size to find ways to meet rising customer needs. As a result of this, modern B2B salespeople highly depend on digital tools to connect with their prospects and customers in order to improve their customer interactions and meet their expectations.
This has given rise to the strategic business practice, called customer relationship management (CRM), which involves multiple measures that focus on improving a customer's experience with a brand. This is where the CRM process makes an entry into business practices and helps in setting effective sales goals.
So, let's understand what the CRM process is, and how you can set it up for your business.
If you considering buying a CRM that can help streamline your business processes through simple automation and powerful integrations, you can consider Kylas CRM. Schedule your demo to find out why!
---
What is CRM Process?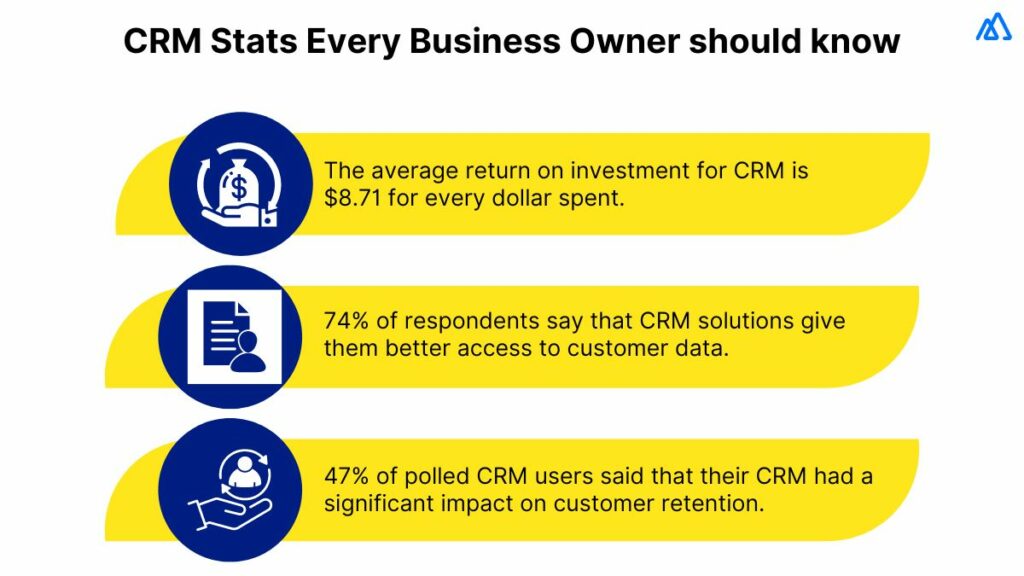 CRM process can be defined as the activities and strategies that businesses use to manage and improve their relationships with their leads, prospects, and existing customers.
The primary goal of the customer relationship management process is to build brand awareness and loyalty while improving customer support tactics, enhancing customer retention, and driving sales growth. It's all about managing customer data, analyzing information, and generating reports to gain insights into customer behaviors and business health.
Furthermore, as the CRM process heavily depends on the data, organizations require well-built software, probably a CRM tool that helps organize their customer database, deliver information on customer behavior, and effortlessly share data across departments.
In a nutshell, a complete CRM strategy is a combination of technological tools and traditional marketing strategies that help businesses build strong connections with their customers.
Get to know the steps involved in the CRM process to successfully execute your strategy and ultimately drive more sales.
---
What are the Crucial Steps in the CRM Process?
The CRM process is a result of the collaborative effort by the company's sales, marketing, and support departments. Hence, it consists of a set of specific steps that can help you execute a solid CRM strategy. Le4t's find out what they are.
1. Reach: Create Brand Awareness
In general, when we meet someone, we introduce ourselves. This is the same principle on which sales teams work.
So, the first step is to tell your potential customers who you are through your marketing efforts and channels like social media and advertising.
It's the marketing team's responsibility to research the target audience and build customer personas. Creating a fictional ideal customer profile would help keep your focus in the right direction based on their interests, geographical locations, and purchasing behaviors.
If you find that there are different personas in your target audience, you better segment them into groups and tailor your marketing efforts to that. If you want to go any further, you can launch test programs to get in-depth knowledge about your customers for a more specific segmentation.
With the help of a CRM tool, you can collect data about your past and current customers and customize your marketing campaigns as per that.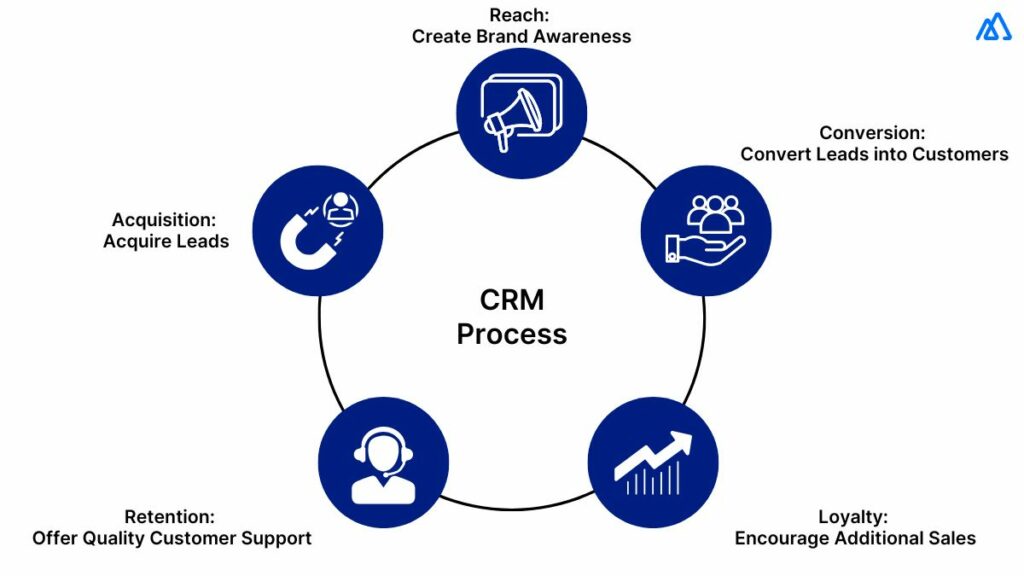 2. Acquisition: Acquire Leads
After you have introduced your brand to your audience, the next thing to do is to generate leads with an aim of converting them into paying customers. This is the step when your teams (sales or marketing) engage with your target audience using different communication channels like social media, sign-up forms, live chat, chatbots, etc.
It's lucrative to send the same messages across different channels. But in reality, this idea can fail because most customers are more into businesses that offer personalized communication. So, don't replicate your messages at all.
Bear in mind that the messages your share must be in accordance with the specific persona you are targeting at that particular moment. Regardless of the channel you use, communication must be swift and on point.
Based on the interactions, you can obtain a lot of informative data that you can store in your CRM and use to improve your communication and touchpoints in the future.
3. Conversion: Convert Leads into Customers
After the second step is done, you have great information about your customers and know what they need and what you can offer them. The third step is about converting the acquired leads into paying customers.
It may seem to be a lucrative step but you better know that conversions don't happen overnight. It requires the marketing and sales teams to work together towards a common goal. Where the marketing team uses personalized content marketing and automation to convert leads, the sales team assesses the hot leads that they must focus on and the ones who are probably going to buy from them.
If there are some cold leads in the system, the team must focus on nurturing them by regularly communicating with them. It's true that cold leads are a tough nut to crack, but you can still offer them content that they may find interesting like e-books, blogs, articles, email newsletters, and product demos.
Nothing can compete with personalized content and communication. As per a survey, 80% of buyers are more likely to make a purchase when brands offer personalized customer experiences. If you establish yourself as a knowledgeable and reliable partner, you can stay in your prospect's mind and they will consider you whenever they need solutions you offer.
4. Retention: Build Relationships through Quality Customer Support
By the time the previous stage ends, you would have earned new buyers. This is the time when you want your customers to stay with your brand for the longest time and keep the relationship going. This is where your customer support team makes an entry.
As per the stats, 93% of customers are likely to make repeat purchases with companies that offer excellent customer service. This may also mean that they would spend more with your brand.
The bottom line is that the customer support you offer to your customers has to do a lot with customer retention. It won't just prevent the customer base from shrinking but will also reduce the number of negative reviews about your business on public portals. Not to mention that a bad word about your business can make you lose even your existing customers.
Along with a professional, personalized approach, you must also become prompt at responding to your customers as 52% of customers expect a quick resolution.
A proactive attitude can help prevent issues even before they happen and hence, there will hardly be any complaints about your business. To stay on top of the tasks and become proactive, you can equip your sales team with the latest tools and content they need.
5. Loyalty: Encourage Additional Sales and Upgrades
One of the key reasons to maintain a good CRM process is to retain your current customers. It's obvious that you need new customers to grow your business but maintaining relationships with the existing customers is equally important. It has been found that repeat customers help businesses earn higher returns. This stands true because businesses don't have to pay the amount that they have to when acquiring new ones.
When you build positive relationships with your customers, you encourage them to pay a return visit to your brand. And honestly, this is what any business actually wants. This is also the time when you can introduce your more expensive products/services to drive upsell and cross-sells.
Your CRM system will come in extremely handy in this. It will tell you what your customers have previously bought from you and group them on the basis of their purchase history. You can use the information to create personalized email marketing campaigns featuring the range of products and services that your customers are interested in. You can also reach out to your customers to take their feedback and offer loyalty programs to give perks to them with an aim of customer retention.
---
Why Should You Implement a CRM Process?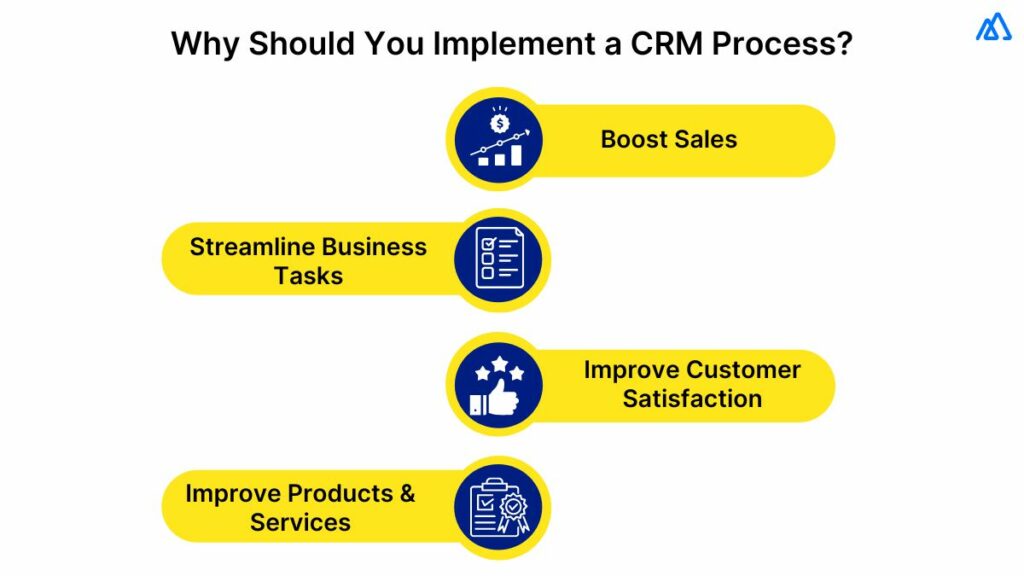 By now, you would have understood that a data-driven customer relationship management strategy is all that you need to focus on the most valuable prospects, make every customer interaction matter, and grow your business. But do you think that you must implement a CRM process? Let's find it out.
1. Boost Sales
As per the stats, by implementing the CRM process, businesses can increase their sales productivity by up to 35%. With the help of pipelines and task management tools, you can streamline your sales process and boost your revenue by around 25%. When you automate most of your repetitive tasks using tools, you give your sales reps plenty of time to work on their skills and improve their closure rates.
2. Streamline Business Tasks
When you have your CRM strategy in place, you get the new wheel for your business. Everything may seem under control until scaling operations become a problem. A CRM solution like Kylas can help you streamline your end-to-end operations. No matter how many clients and employees you have, you will always be able to manage your tasks and stay on top of them.
3. Improve Customer Satisfaction
As per the studies, a CRM strategy can help achieve 35% more customer satisfaction. When you are able to satisfy your customers, they will buy more from you and stay with you. This will help you enjoy the benefits of positive word of mouth as happy customers will spread the word about your both online and offline. This will further help you acquire more customers at a much lower cost.
4. Improve Products & Services
Implementing a CRM process can help enhance your products and services. A dedicated CRM will keep an eye on how you have been performing on social media and what your customers are saying about your services. These insights can help you find ways to improve your products and services.
---
Conclusion
You can never go wrong in catering to your customer's needs. This requires you to offer personalized customer interactions that make your customers interested in what you sell. A well-defined CRM process can help you with this experience throughout the customer's buying process.
A sales CRM like Kylas is meant to help businesses improve their interactions with their customers and boost sales.
Start 15-day Free Trial